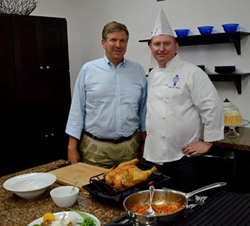 Dacor is the first and only appliance brand to be tested and recommended by the Master Chefs of Le Cordon Bleu, notes Dacor CEO Chuck Huebner.
Los Angeles (PRWEB) June 20, 2014
A culinary match is made in Los Angeles today as world-renowned Le Cordon Bleu® and California-based leader in ultra-premium kitchen appliances Dacor®, announce a strategic alliance that has never been done before. The love of exquisite cuisine and culinary artistry brings together the world's premier provider of culinary arts education and the leading manufacturer of ultra-premium appliances for an unprecedented partnership that will forever change the face of cooking innovation in the home kitchen.
Le Cordon Bleu has propelled chefs from cooking students to culinary icons with graduates such as Julia Child, Giada De Laurentiis and Nancy Silverton, a 2014 James Beard Foundation Award winner for Outstanding Chef. After years of research, Le Cordon Bleu sought out a partnership with Dacor for its outstanding cooking appliance innovation, excellent product performance and unparalleled culinary passion. Both companies are seeking to ensure a revolutionary change in the culinary space. The merging of French technique and American innovation reinvigorates the kitchen with products, passion and progress that moves traditional cooking to modern day creations.
"Many of the most sought after chefs in the world have graduated from our culinary schools," says André J. Cointreau, president of Le Cordon Bleu International. "We only accept excellence and therefore, if we partner with a brand, we only partner with the best. And I believe Dacor produces the best ultra-premium major appliances on the market today."
Given Le Cordon Bleu's long history of excellence in the culinary space, the organization believes that there is value in providing students, aspiring chefs of all levels and loyal followers recommendations for specific kitchen appliances and other cooking tools and instruments to maximize their performance.
"As a professional chef, the tools we use are just as important as the ingredients that go into each dish," notes Executive Chef of Le Cordon Bleu Yannick Anton. "So whether I'm cooking at home or in a professional kitchen, performance is paramount, and the power and precision I experienced with Dacor was second to none."
Le Cordon Bleu Master Chefs recently tested numerous high-end cooking appliance brands including Dacor on myriad evaluations such as baking, convection baking, broiling and convection roasting. The tests measured the oven's speed and accuracy, evenness of heat distribution, and the quality of dishes prepared. Dacor appliances were determined to be superior in multiple categories and its premier product craftsmanship was highlighted as well.
"Dacor is the first and only appliance brand to be tested and recommended by the Master Chefs of Le Cordon Bleu," notes Dacor CEO Chuck Huebner. "This alliance is the perfect pairing of two iconic brands with a rich history of celebrating culinary artistry."
As part of the partnership agreement, Dacor ovens and ranges will have a Le Cordon Bleu seal of excellence insigne. Additionally, Le Cordon Bleu will feature select Dacor products in its upcoming cooking classes, demonstrations and academy kitchens.
"There is no other kitchen appliance brand in the world that has received this renowned stamp of approval," notes Dacor President Steve Joseph. "Like Le Cordon Bleu, Dacor has been committed to innovation and excellence since our inception nearly 50 years ago, and it's these ideals that set the standard for everything we do today."
ABOUT DACOR
Founded in 1965, Dacor is a manufacturer of ultra-premium kitchen appliances. Designed and built in California, Dacor's cooking appliances integrate function and technology to create high-performing, intuitive products that reflect the lifestyle and needs of the passionate cook. For nearly 50 years, Dacor has been responsible for many of the innovations that have improved the way people cook in the modern kitchen. Dacor is family-owned and embraces the legacy, heritage and expertise of a third generation to lead the company into a new age of cooking innovation. Dacor's innovative appliances have been recognized with many prestigious awards including a Digital Trends Best of Consumer Electronics Show (CES) Home award for its Discovery iQ™ Dual-Fuel Range, Kitchen & Bath Industry Show (KBIS) Best of Show and Best of Kitchen Gold for its Discovery iQ™ 30" Wall Oven and Better Homes & Gardens Kitchen + Bath Ideas 30 Most Innovative Products award for its Discovery WineStation®. For more information about Dacor and its products, visit dacor.com.
ABOUT LE CORDON BLEU
Since 1895, Le Cordon Bleu has set the standard for cooking schools around the world and its innovative ways have changed the way students are trained and classes are conducted. It is the first school to create a teaching methodology where a chef demonstrates and students and participants not only witness each step but complete the lesson by sampling each dish prepared. Through a judicious mixture of practical classes and demonstrations, students learn French cuisine from French/professional chefs directly.
Today, Le Cordon Bleu proudly offers more than 48 schools across 20 countries, which are attended by more than 30,000 students every year. Students are taught by our master chefs, of which the majority come from Michelin-starred restaurants or are winners of prestigious competitions and titles such as Meilleur Ouvrier de France. Le Cordon Bleu is considered the world's most respected culinary arts and hospitality educator.
Le Cordon Bleu has a tradition of excellence to furthering the appreciation of fine food and the French art of living.