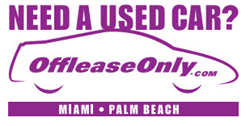 Palm Beach, Florida (PRWEB) June 19, 2014
Off Lease Only is beyond proud to receive the honor, prestige and recognition of being named the #5 Volume Dealer in the Country on Auto Remarketing's Top 100 List. Hard work, dedication and a desire to offer the used car shopper a unique car buying experience has paid off for this family-run business that now has close to 300 employees, at 3 locations and growing.
"Every single employee made this possible," Fischer said in an email to all employees. "This is a huge accomplishment and everyone should be proud to work here. I appreciate everyone's hard work every day that has helped get us here." Fischer's focus is on expansion and consistently growing the Off Lease Only brand awareness.
The recognition that comes along with receiving this prestigious award is a huge accomplishment for Off Lease Only owners Mark & Eileen Fischer. They started this company with two cars that they bought with their life savings twenty years ago and a vision to provide a more transparent car buying experience. Mark Fischer comments, "This award is an absolute honor. I don't do this for awards, I do this because I genuinely care about every one of my customers and I believe our success has come from that along with selling cars thousands below retail." Fischer is still very hands on and you can see his dedication and passion that comes from helping over 70,000 happy customers each save thousands on their pre-owned purchase. "If one of my customers has a problem, I personally get involved to make sure they are treated with the utmost respect and responsiveness. This definitely sets Off Lease Only apart from those bigger box stores.
Editor Joe Overby from the trade publication Auto Remarketing comments, "This award says you are among the very best in the business. It really recognizes the top… independent dealers who are the top-selling dealers in the country." The 2014 rankings are based on retail used vehicle sales from 2013. According to the "Top 100 Sellers" list, Off Lease Only's Lake Worth location was ranked fifth out of 100, with sales of 10,415 vehicles for 2013. Sales statistics for the rankings are gathered from the states' DMV and reported to Dominion Dealer Solutions, which provided Auto Remarketing with the data, Overby said.
Off Lease Only has an extremely loyal following that will be excited to hear upcoming plans of expansion for this dealership. Fischer says, "We have simply outgrown our current Palm Beach facility and I have worked an incredibly long time to find the perfect location that is large enough to hold the volume and selection that Off Lease Only customers are accustomed to. After many years, I am ecstatic to announce that zoning has been approved and we are on the brink of breaking ground on our brand new Palm Beach dealership. Customers will shop over a thousand cars spread out over 15 acres of land in the comfort of golf carts, or by foot if they prefer. Our new location at 1200 S. Congress is scheduled to open in 2015 and will mirror our Miami dealership giving customers an even more pleasant experience. We're also looking to expand to Orlando to make it more convenient for our Orlando, Tampa and St. Pete car shoppers to save thousands!"
According to Auto Remarketing's 2012 Top 100 Sellers list, Off Lease Only was ranked #11. "Moving up 6 slots to #5 in just one year is very exciting and it proves that used car shoppers are very much loyal to our transparent business model. Offering the lowest prices, no dealer fees, no negotiating, free CarFax reports and a pressure free sales environment have brought us to the top 5. Our customer service and attention to making sure every customer is happy before, during and after the sale is what is going to get us to #1."
ABOUT OFFLEASE ONLY: Off Lease Only is proud to offer customers thousands of cars all priced thousands below retail in a unique and pressure-free environment. You can shop over 2,000 cars from the comfort of your computer, get pre-approved for financing online and get extended service agreement information prior to even stepping foot on one of their three dealerships. At Off Lease Only you will never pay a dealer fee, never encounter any hard sales tactics or negotiating nonsense. The prices are clearly marked online and on the lot. Once you experience the transparency that Off Lease Only offers used car shoppers, it will be easy to see why we are The Nation's Used Car Destination! Over 70,000 happy customers have chosen to save thousands on their pre-owned purchases and you can too. For more information, visit http://www.offleaseonly.com.