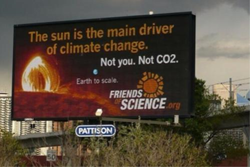 "...there has been a drop off in temperature trends since 2000" - meaning a cooling phase may be in progress.
Calgary, Alberta, Canada (PRWEB) June 24, 2014
Friends of Science Society has posted a letter on its website disputing the Greenpeace statements and pointing out what Friends of Science claims is missing scientific evidence that contradicts Greenpeace, such as the report in the March 30, 2013 print edition of The Economist that gave early statements of a long-term, unexpected hiatus in global warming, despite a significant rise in carbon dioxide (CO2), the greenhouse gas widely believe to cause warming.
A June 20, 2013 report in Der Spiegel, interview with climate expert Hans von Storch revealed his thoughts that: "If things continue as they have been, in five years, at the latest, we will need to acknowledge that something is fundamentally wrong with our climate models. A 20-year pause in global warming does not occur in a single modeled scenario. But even today, we are finding it very difficult to reconcile actual temperature trends with our expectations."
By contrast, the May 28, 2014 Greenpeace letter claims executives could be found personally liable for denying climate change, but makes no mention of this hiatus in global warming, despite rising CO2 levels.
Noted atmospheric scientist Judith Curry of Georgia Tech, in her Jan. 16, 2014 testimony to the US Senate Environment and Public Works hearings, based her comments on the September 2013 IPCC report, and said current climate science evidence shows that the case for human-caused climate change due to carbon dioxide (CO2) from fossil fuel emissions is weakened, and natural factors appear to be more influential.
Curry pointed out in her testimony that 'CO2 is not the knob of climate variability' and she said that many commentators claiming an increase in climate extremes were suffering from 'weather amnesia' since the evidence shows the 30's, 50's and 70's had more extreme weather.
The prediction of a 20 year cooling phase (or more) has been raised by various solar scientists, including Oxford-trained astrophysicist Dr. Jim Buckee, an early supporter of Friends of Science position on climate change.
As quoted in a University of Aberdeen press release of Feb. 10, 2009, Dr. Buckee said: "The climate of the last few hundred years is a continuation of normal processes and can be closely reproduced as a slow temperature increase since the Little Ice Age, due to increasing solar activity, overlaid by oceanic oscillations."
"Oceanic modulations and solar cycle length analysis now indicate we are entering a cooling period which could last until 2030 or more. This will have a significant effect on the way we lead our lives, impacting negatively on areas such as food production," said Buckee.
"We recommend that people watch "Climate Catastrophe Cancelled" to appreciate how the sun affects climate on earth," says Maier.
As early as January 22, 2008 in RIA Novosti, Russian astronomer and mathematician Khabibullo Abdusamatov, head of a space research lab at the Pulkovo observatory in St. Petersburg, was predicting global cooling due to a decline in solar activity
About
Friends of Science have spent a decade reviewing a broad spectrum of literature on climate change and have concluded the sun is the main driver of climate change, not carbon dioxide (CO2). The core group of the Friends of Science is made up of retired earth and atmospheric scientists.
Contact:
Friends of Science Society
P.O. Box 23167, Mission P.O.
Calgary, Alberta
Canada T2S 3B1
Toll-free Telephone: 1-888-789-9597
Web: friendsofscience.org
E-mail: contact(at)friendsofscience(dot)org