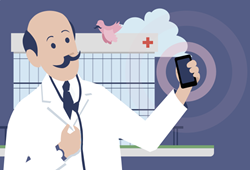 We're driving collaboration in the medical space by expanding the network of providers that our customers can easily and securely message.
San Francisco, CA (PRWEB) June 19, 2014
pMD, the innovation leader in physician communication and mobile charge capture, has released an update that extends pMD Messaging beyond its charge capture users. The secure text messaging system's contacts feature now allows health care professionals to securely and easily communicate beyond their practice and with their medical community.
"pMD Messaging is easy to use, both for our office staff and physicians," Dr. Stuart McDonald with Texas Pulmonary & Critical Care Consultants said. "In addition to being HIPAA compliant, it gives us an easy way to send messages to each other about patients quickly. It's great to be able to quickly find physicians both in my group and those that I work with outside of my group."
pMD, whose mobile charge capture app allows physicians to enter their medical billing charges into their smartphones and send text messages securely, added enhancements to the contacts list in its messaging platform to expand the messaging networks for its users. Any associated health care professional who need access to messaging, including staff and outside providers, is set up with pMD Messaging, effectively extending communication beyond pMD charge capture users.
This new heightened messaging network in pMD allows for the ease and security of messaging without having to manage provider contact information. pMD Messaging users do not have to release their contact information to other providers in order to exchange messages. The system streamlines the process and protects this information, creating a vetted and secure list of messaging contacts. New contacts from the patient care community are automatically populated in the messaging contacts list, so providers do not have to manually add new contacts in pMD. This makes the outside provider community more easily accessible, while keeping their contact information controlled.
"We're driving collaboration in the medical space by expanding the network of providers that our customers can easily and securely message," pMD CEO Philippe d'Offay said. "pMD Messaging users know that the text messages they receive in pMD from providers outside their practice are coming from a secure, reliable source. Our integrated messaging system streamlines provider communication and saves them valuable time to focus on patient care."
The contacts list in pMD Messaging serves as an accessible and integrated list of health care providers in one comprehensive app for faster messaging and fewer clicks.
About pMD
pMD's mobile charge capture software supports doctors across multiple specialties by allowing them to enter their patient charges into Android, iPhone, iPad, iPad Mini, and iPod Touch devices at the point of patient care. The patient visit is then visible to other doctors within the practice and can be billed immediately. Doctors using charge capture are increasing their ROI in a time where Medicare cuts, ICD-10, PQRS, and other costs are significantly impacting profitability. pMD increases efficiency and security in a practice through automation and secure text messaging, and it provides free interfaces with most major electronic medical records, hospital information, and medical billing systems, including Allscripts Pro PM, Allscripts Tiger, athenaCollector by athenahealth, Cerner, eClinicalWorks, Epic, GE Centricity (formerly Millbrook and IDX), MEDITECH, NextGen, and Vitera Intergy (Sage). For more information, visit pmd.com or email sales(at)pmd(dot)com.