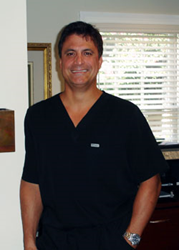 Raleigh, NC (PRWEB) June 19, 2014
Dr. Jason Cataldo of Periodontics and Dental Implants of North Carolina is proud to offer a new type of gum disease treatment in Raleigh, called the Laser Assisted New Attachment Procedure (LANAP®), to give patients in the area a new way to treat periodontal infections in preparation for receiving dental implants. LANAP® uses a laser to identify and eradicate infected areas and stimulate bone regrowth without impacting healthy tissue, thereby retaining the maximum amount of gum and bone tissue to support eventual implants.
Healthy gum and bone tissue are the most critical components to the successful placement of dental implants in Raleigh. Implants typically cannot be placed into diseased tissue, nor can they be placed into healthy gums if there is not enough bone available to hold the implants in place. Traditional gum disease surgery uses a scalpel to literally cut out infected areas. It also naturally leads to the cutting away of some healthy tissue as well, and does nothing to encourage bone regrowth. LANAP® gum disease treatment usually retains healthy areas and encourages the regrowth of bone, improving the potential for patients to receive implants. In addition, laser gum surgery results in almost no discomfort due to the lack of incisions or stitches involved.
For local residents, dental implants in Raleigh are the optimal way to address the problem of missing teeth because they most closely mimic natural teeth. As an advantage to patients from an appearance standpoint, implants offer maximum cosmetic benefits. Functionally, implants can allow people to eat and talk as normal in ways that most dentures or other solutions may not. Additionally, implants provide tooth-like stimulation to the jaw bone to maintain its health and prevent erosion of the bone over time. When bone erodes, the face can assume a sunken look and both speech and functionality can be negatively affected.
Dr. Cataldo is committed to providing Raleigh, NC patients the latest in advanced dental treatments for optimal patient care and comfort. His use of LANAP® gum disease treatment is just one way he demonstrates this effort. People interested in learning more about laser gum treatment and how it might help treat gum disease and prepare for implants, are invited to schedule a consultation with Dr. Cataldo at Periodontics and Dental Implants of North Carolina today.
About The Doctor
Periodontics and Dental Implants of North Carolina is a periodontal practice offering personalized dental care for Durham, NC gum disease patients. Dr. Jason Cataldo attended college at the University of Buffalo School of Dental Medicine, completed a general practice residency at Michael Reese Hospital in Chicago, IL, and completed his periodontal training at Case Western Reserve University in Cleveland, OH. He is board certified in periodontology and adjunct faculty at the University of North Carolina at Chapel Hill. Dr. Cataldo is part of one percent of dental professionals providing the LANAP® FDA cleared laser procedure for gum disease treatment. To learn more about Periodontics and Dental Implants of North Carolina and their dental services, visit their website at http://www.carolinaperioimplants.com and call (919) 724-4273.