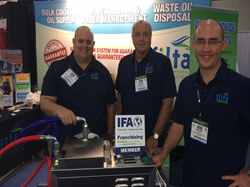 We expect big things from the show in New York.
New York, NY (PRWEB) June 23, 2014
Filta Environmental Kitchen Solutions announces sponsorship of the 2014 International Franchise Expo in New York, NY. This is their second year in sponsorship and attendance of the show located in the Javits Center at booth 1037 from June 19th - 21st.
While there, prospective Franchise Owners will be able to ask questions and really understand what Filta offers to Franchise Owners and their clients. Filta Franchise Owners provide eco-friendly, onsite, mobile fryer management services to commercial kitchens across the USA and around the world. Recently named exclusive fryer management provider to Armark, joining established relationships with Sodexo and Compass Group.
"Benefits include exclusive territories, weekly repeat customers, minimal overhead, simple administration, and world class support", said Adam Blake, VP of Franchise Development. He continued, "We expect big things from the show in New York."
About Filta Environmental Kitchen Solutions
Established in the United Kingdom in 1996 and brought to the USA in 2002, Filta is the world's leader in commercial fryer and cooking oil management services and offers its services through a worldwide franchise network. Filta is dedicated to saving its client's money, creating a safer working environment, and providing customers with the tools to increase the quality of their product, all while preserving the environment. Filta services over 5,000 customers every week and has recycled over 1/2 of a billion pounds of oil and counting! http://www.filta.com