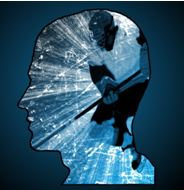 Imagery is the blueprint of the brain.
London, England (PRWEB) June 20, 2014
Training programs for elite and professional athletes have evolved considerably over the years. There was a time when athletes simply trained for their sport. Today, training is much more complex and involves both a physical and mental component. On June 26, 2014, the Biofeedback Federation of Europe will host a webinar on Imagery to Improve Performance, presented by Stephanie Nihon, MSc, BCIA, BCN. During the one-hour presentation, Stephanie will share techniques for teaching athletes imagery to improve their performance and will discusses the history of imagery in the field of psychophysiology. When asked how imagery helps with performance Stephanie replied, "Imagery is the blueprint of the brain. Seeing success in your head increases your success on the field."
Stephanie has been involved in optimal performance training for over 10 years and as a former Canadian national athlete has a unique perspective on the relationship between trainer and athlete. She uses a number of techniques when working with athletes including both bio and neurofeedback. Adding a psychophysiology component to a training regime helps athletes understand how their bodies react to emotions and stress. With this knowledge, they can learn how to control these reactions, thereby reducing the effect they have on an athlete's performance.
Imagery to Improve Performance Webinar
Presented by: Stephanie Nihon, MSc, BCIA, BCN
Date: June 26, 2014
Time: 2:00-3:00 Eastern Time (US & Canada)
About Stephanie Nihon, MSc, BCIA, BCN
Stephanie Nihon is BCIA BCN certified. She is currently pursuing her PhD in Psychophysiology. Stephanie has worked closely with Dr. Vietta (Sue) Wilson training athletes and at the ADD Centre with Drs. Lynda and Michael Thompson, benefiting from their guidance. Her experience training professional athletes extends to the fields of tennis, swimming, hockey, downhill skiing, and more. Stephanie is also the author of the BFE's Tennis Performance Suite, a software program that offers an assessment and training screens for use with specific exercises that emphasize self-regulation and peak performance mental skills.
About the Biofeedback Federation of Europe
The Biofeedback Federation of Europe (BFE) is a community interest company in the UK leading the way to share knowledge in the field of biofeedback. Through its "Learn From the Best" program, it offers a variety of webinars, online classes, courses, software and workshops with applications in healthcare, mental health, optimal performance and sport. Content is developed independently by International Research & Education Project teams. For more information, visit the BFE Online Shop.
Contact:
Carol Meyers
BFE Education Manager
education(at)bfe(dot)org