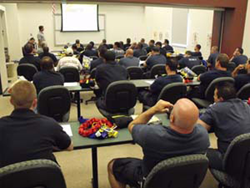 For years we have offered training classes, but the bigger vision has always been to expand it to everyone..
Neptune, NJ (PRWEB) June 23, 2014
Public Safety workers employed by fire departments, police departments, and first aid squads are always training and educating their personnel. New information, improved techniques and evolving technology is presented for awareness and improved the services that are provided.
A New Jersey–based company has seen the importance of education, and has placed a great focus on offering training classes not only to the direct customers they serve, but just about anyone.
"For years we have offered training classes, but the bigger vision has always been to expand it to everyone," said Donald Colarusso, President of All Hands Fire Equipment and a 27 year veteran firefighter. "In May we moved to a new location that not only has a showroom and offices, but also a classroom and an area for hands-on training. It is so exciting to be able to bring people to us, and offer them an experience."
With a training center nearing completion, All Hands Fire Equipment recently announced three open enrollment training classes. For people interested in employment as a 9-1-1 emergency dispatcher, a class titled Basic Telecommunications Officer has been scheduled for July 21 through July 25, and a part two to that class is Emergency Medical Dispatcher scheduled for July 28 through August 1. Both classes are approved through the New Jersey Office of Emergency Telecommunications Services.
The third open enrollment class presently scheduled is "Man vs. Machine Rescue". This is a popular class for firefighters and rescue companies, and is presented throughout the United States and at the Fire Department Instructors Conference (FDIC) which is held annually in Indianapolis.
All three classes are being held at the new All Hands Fire Equipment Training Center in Neptune City, New Jersey.
"We also will be scheduling Cardiopulmonary Resuscitation (CPR), water rescue, and other dynamic classes", Mr. Colarusso said. "Of course many classes will be catered to those in public safety, but we will also be offering a variety of classes to the general public."
All Hands Fire Equipment also provides training classes throughout the country, at the customers preferred site such as a fire academy, an acquired structure (vacant) or right at a firehouse. In July, All Hands Fire instructors will be in Alexandria, VA providing a class on Firefighter Emergency Escape Bailout Systems.