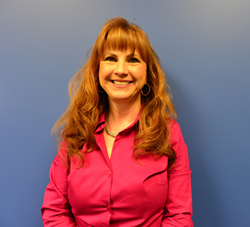 My main goal initially will be to maintain the excellent customer service that has been at the center of Grosh's success
(PRWEB) June 27, 2014
Hollywood-based Grosh Backdrops and Drapery announces the debut of JoAnna Smith as its new Manager of Business Development and Sales.
Smith comes to Grosh with experience in business development and sales from the banking industry after she studied business administration at Cal Poly Pomona. "My main goal initially will be to maintain the excellent customer service that has been at the center of Grosh's success," Smith said. "I also plan to reach out to new clients to show them what Grosh has to offer, and how we can make their events shine even brighter."
Grosh Backdrops and Drapery has been an entertainment industry innovator for more than 85 years, Smith said. She plans to continue finding the kinds of improvements, such as the award-winning web storefront and online ordering, which save customers time, as well as, make their productions easier and more successful.  "I also want to continue to bring customers' design ideas and requests into our rental inventory to increase selection and options," she said.
Smith is also intimately aware of Grosh's commitment to arts education. The mother of three first learned of Grosh through her children's school theater and music productions. "What I didn't know was how big an impact Grosh has been in education and the arts over so many years." Most recently, Grosh was a main sponsor of high school musical theater awards galas in Los Angeles, Atlanta and Chicago.
The more the Southern California native learned about Grosh, the more excited she became at the chance to manage its business development and sales. "It is a wonderful opportunity to be a part of this family owned company; to work with talented professionals who have a passion for the arts and love what they do; and to help so many customers create the perfect event or performance," Smith said.
Upon starting her new responsibilities, Smith said she immediately noticed how dedicated the Grosh family is to providing the best product and service for each and every customer.
Grosh Backdrops & Drapery is among Hollywood's longest supporting partners. Grosh provides the highest quality themed and theatrically produced hand-painted backdrops for professional stage productions, dance recitals, school performances or corporate parties. Grosh also offers an excellent drapery selection including rain curtains, Austrian puffs and velour drapery panels.
Grosh strives to constantly improve how scenery comes to life in the theater world by evolving with the industry. Among the improvements, Grosh has greatly simplified how backdrops and drapery are hung by designing and developing a portable telescoping lifting system, called the "BackdropLIFT." For more information about Grosh Backdrops and Drapery and their other divisions, Grosh Custom and BackdropLIFT, you can visit http://www.GROSH.com.
You can also contact Shawn Glaspell at the Spencer Lewis Marketing Group at 909.945.5247. http://www.spencerlewis.com