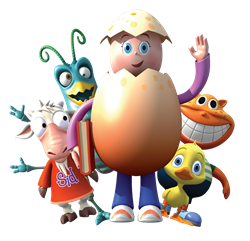 The success [of the program] comes after similar initiatives in South Africa, where Reading Eggs has been used by schools to teach children English.
New York, New York (PRWEB) June 26, 2014
Queens Library in New York is providing a groundbreaking way for children as young as five to improve their reading skills with Reading Eggs, an interactive virtual world designed to turn reading into a fun and challenge-based game for young children.
Since 2012, the library has incorporated Reading Eggs into its before and after school programs for neighborhood children between the ages of 5 to 14, many of whom come from low income immigrant families with limited access to technology and the internet at home.
Reading Eggs, which can be easily accessed on computers and tablet devices, is designed to make learning essential literacy skills fun and motivational for children between the ages of 3 and 13. Developed by experienced elementary educators, the program features scientifically-based lessons that engage children with game-like activities, animations, vibrant characters and music.
Saroj Sami and her daughter Ashira have been excited over Ashira's progress since using the online reading program.
"I did not have to help her with anything at all. She just did it all by herself. She is so excited that she can read. She has started sounding out words and spelling them," says Sami.
Popular children's librarian Sofia Zambrano, noted significant improvements in the literacy skills of children using Reading Eggs at the library.
"Reading Eggs facilitated English language acquisition to our children, who after persevering in the program not only improved their literacy skills considerably but developed a love for reading and learning as well."
Ms. Zambrano says that parents, many of whom speak little or no English, have also used Reading Eggs at her library to help improve their own language skills.
The success comes after similar initiatives in South Africa, where Reading Eggs has been used by schools to teach children English. In the eastern province of Mpumalanga, schools in which students used Reading Eggs for a three to six month period were found to perform 27% better in literacy tests than students in schools who weren't using the program.
Following the success of Reading Eggs at the Queens Library, Matthew Sandblom, CEO of Reading Eggs says there are now plans to introduce Reading Eggs into the library's learning centers located across the United States.
Ms. Zambrano is fully supportive; "Reading Eggs is a superb program for children whether they are English proficient or not. I strongly recommend this program to librarians and other educators."
To find out more about Reading Eggs and the Queens Library, please contact Edward Howard at edward(dot)howard(at)readingeggs(dot)com or Joanne King via jking(at)queenslibrary(dot)org at the Queens Library.
About Reading Eggs
Developed by educators with over 30 years of experience, Reading Eggs online lessons instruct children in the five areas crucial to literacy development – phonemic awareness, phonics, vocabulary, fluency and comprehension. Reading Eggs focuses on a core reading curriculum of skills and strategies essential for sustained reading success and is suitable for children ages 3 to 13. Since launching in the United States and Canada in 2011, Reading Eggs has signed on more than 500,000 subscribers and presented more than 15 million lessons in North America. The program has now been purchased in over 169 countries.