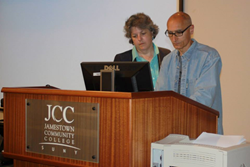 We want to offer a unique educational experience ... while also providing the opportunity for professional networking.
Jamestown, NY (PRWEB) June 24, 2014
The annual NYSATA Conference, held at Jamestown Community College (JCC) for the second consecutive year, ran from Friday, May 30th to Sunday, June 1st offering a variety of educational and networking opportunities for certified athletic trainers (ATs) and athletic training students (ATSs). The philanthropic golf tournament, which kicks off the conference each year, was held on Friday at the historic Chautauqua Golf Club. Proceeds from the golf tournament, as well as raffles held throughout the weekend, raised over $3,000 to benefit the family of Glenn Marinelli. Marinelli was the long-time head athletic trainer at Marist College who recently lost a courageous three-year battle with brain cancer and the contributions are to offset some of the hefty medical expenses his family has incurred. Marinelli was also honored with a moment of silence during the opening session on Saturday morning.
Presentations on May 31st for the seventy-six registered attendees covered a breadth of topics, from heat emergencies, cardiovascular conditions and metabolic syndrome, to nutritional considerations and pharmacology. There was also a presentation given by NYSATA's lobbyist on the current status of the AT bill (S4465 and A6678) to update the NYS practice act, as well as a review of the NYS legislative process. Workshops included the use of battle ropes for rehabilitation and conditioning, early detection of atherosclerosis using Doppler imaging, and analysis of sports drinks and nutrition products. Certified athletic trainers in attendance for the entire weekend of professional development had the opportunity to acquire up to twelve continuing education units (CEUs).
NYSATA would like to extend a sincere thank-you to the Symposium presenters, who included Dr. Michael Mitchell (WCA Sports Medicine), Lisa Schmidtfrerick-Miller, MS, LMT (Chautauqua County Public Health Educator), Greg Knecht, RDCS, RVT (UPMC Hamot), Deanna Errico, PT, DPT, ATC (Utica College), and Jackie Buell, PhD, RD, CSSD, ATC (Ohio State University). Knecht and athletic trainers Kevin Joyce, MSEd, ATC, CSCS (Post University) and Christine Jenkins, MS, ATC (Hudson Valley Community College) ran the three clinical workshops. The additional session on Sunday, a learning lab on Casting & Splinting Skills, was conducted by Christopher K. Hobler, RSA-O ATC SA-C (St. Bonaventure University).
Educational programming on Saturday also included two professional poster presentations in the Free Communications session, run by TK Koesterer, PhD, ATC (SUNY Cortland). Both case studies focused on hip joint impingement and labral tears and were each co-authored by an AT student with a faculty sponsor, Kent Scriber, PhD, PT, ATC and Courtney Grey, MS, ATC, respectively, from Ithaca College's AT Education Program (ATEP). Alongside the free communications were sales rep exhibitors from Johnson & Johnson (Joe Baroni of RBC & Associates) and Dynatronics (Mike Bulman).
The AT Student Program at the NYSATA Conference drew sixteen undergraduate AT students (ATSs) from across NYS in its second year. ATS sessions, presented by Courtney Grey, MS, ATC (Ithaca College) and Jenna Tacinelli Hach, MS, ATC, CCT, CKTP (Dominican College), were given on non-operative ACL rehabilitation and functional movement screening techniques. "We are excited to again offer an athletic training student program," Conference Chair, Aimee Brunelle, MS, ATC, EMT, stated. "Students are integral to our profession, and we want to offer them a unique experience with AT students from across NYS while also providing the opportunity for professional networking with certified athletic trainers."
The annual NYSATA Conference also provided the opportunity to hold the semi-annual, member-wide business meeting which included an awards recognition ceremony. NYSATA's newest Hall of Fame inductee, Andy Smith, MS, ATC (Canisius College), was announced and recognized for his many achievements and contributions to NYSATA and the profession of athletic training. NYSATA's 2014 Sciera Service Award winner, Kristy Hart, MS, ATC, CSCS (NYSATA PR Chair), was also formally recognized during the meeting, and the Secondary School Grant winners were announced. This year's NATM ATEP Student Video contest winners, SUNY Brockport and Daemen College, were also recognized to honor their efforts. Additionally, Brunelle, Conference Chair and NYSATA President-Elect, officially took over the reins as NYSATA President from Deanna Errico, PT, DPT, ATC. A full write-up of these and other 2014 award winners will be available soon – join NYSATA's RSS feed to get the latest information!
A long list of schools, groups, and individuals contributed to the philanthropic efforts for the Marinelli family including donations such as golf tournament tee sponsors and/or by donating items to be raffled off. NYSATA would like to recognize the 2014 tee sponsors: Marist College Athletics; ATEPs from Daemen College, Dominican College and Stony Brook University; Sports medicine and AT staff members from Canisius College, Cornell University, Niagara University, SUNY Cortland, the NYS Capital Region (Jay & Lisa Geiger) and the Metro Atlantic Athletic Conference (MAAC); various NYSATA representatives and Empire State Games alumni, including Dr. Stuart Cherney, Maggie Callahan, Joyce & Chuck Biss and Kent Scriber as well as others; Johnson & Johnson; and Champion Orthopedics and Sports Medicine at Cole Memorial. Marist College, Stony Brook University, and Johnson & Johnson (via sales rep Baroni) also made product donations to the raffle, in addition to JCC, NYSATA, SUNY Plattsburgh, Post University (Waterbury, CT), Mike's Nursery (Jamestown, NY), NYSATA President-Elect Bob O'Malley, MS, ATC, and an anonymous donor who provided two tickets to a Yankee-Red Sox game in August.
NYSATA, founded in 1976 and incorporated in 1989, stands to advance, encourage and improve the profession of athletic training (AT) by developing the common interests of its membership for the purpose of enhancing the quality of healthcare for the physically active in NYS. Athletic training is practiced by certified athletic trainers (ATs), who have expertise in the assessment, emergency management, rehabilitation and prevention of acute and chronic sport-related injuries, illnesses and conditions, including concussions. Comprised of over 1,200 certified and practicing athletic trainers, NYSATA is the state-wide affiliate of the regional Eastern Athletic Trainers' Association (EATA) and District Two of the National Athletic Trainers' Association (NATA).