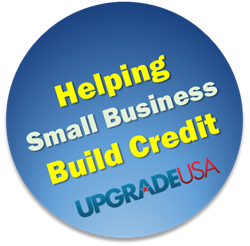 Small businesses need a break, and we're here to give them one.
Austin, TX (PRWEB) June 26, 2014
UpgradeUSA, a leading online company focused on helping people build credit through laptop payment plans, announced today that it is launching an online program to help small businesses affordably obtain the technology they need to grow - while helping them build a history of business credit.
"Small businesses need a break, and we're here to give them one. Our technology leasing program provides businesses with a way to reduce capital expenses and better manage cash flow, while helping them build a credit history," said Jon Weisblatt, Founder & CEO of UpgradeUSA. "This program offers an important step forward for small businesses as they seek to get payment terms from suppliers and grow into the companies that will build the next wave of success stories across America."
UpgradeUSA carries hundreds of thousands of products, and also has reseller relationships with leading technology companies such as Dell and Lenovo. Through UpgradeUSA, customers have access to just about any commercial or consumer technology product on the market.
The move to offering lease programs to small business is a natural progression from the company's roots in the online consumer lease space. Since 2011, UpgradeUSA has provided approved consumers - and now entrepreneurs, startups and small businesses - a chance to build a positive credit history, even after they are turned down by traditional computer financing.
The company's innovative online-only payment program allows approved customers to receive brand-new technology quickly, and reports each monthly payment as a trade line to major US credit bureaus every month.
Interested small business owners or managers should simply fill out a short quote form at UpgradeUSA.com to begin the process.
Some of the many benefits of UpgradeUSA's lease payment plans over other payment programs include:

Early Payoff Option. Many equipment lease programs require customers to make payments equivalent to the total amount of the contract. UpgradeUSA is different in that it provides customers with a very fair and flexible early payoff chart. This allows businesses the flexibility to pay off their lease early and at a lower amount following each monthly payment.
Credit-Building. As an alternative to revolving credit, the technology payment plans from UpgradeUSA help businesses take a critical step towards building a credit history. By reporting every customer payment to business credit bureaus every month, UpgradeUSA is one of the only online companies to offer this service on new, quality computers and tablets that people want or need for their business.
Online convenience. With UpgradeUSA, customers manage their entire transaction online. People can shop with privacy, convenience, and discretion; no trudging to a store every month to make a payment or maxing out a revolving credit line.
Business technology and laptop payment plans from UpgradeUSA generally last 24 months, with an early payoff available every month. Customers have the option of owning the products at the end of the lease or they can choose to pay it off early at any time. Inventory changes regularly.
How Businesses Can Apply
To participate in the program, authorized company representatives should visit UpgradeUSA.com where they can find the business quote form. Depending on length of time in business, they may need a personal guarantor to complete a short, 2-minute application. UpgradeUSA ships products shortly after customers make their first payment, which they can make via their preferred debit or credit cards. Larger equipment lease deals will still be managed by UpgradeUSA but may be referred to a third-party for underwriting.
Availability by State
UpgradeUSA's small business program is available nationally.
The Consumer laptop payment plan services are available for qualified customers in the following states: Arizona, California, Colorado, Delaware, Florida, Illinois, Kansas, Kentucky, Louisiana, Massachusetts, Michigan, Mississippi, Missouri, Montana, Nevada, New Mexico, New York, North Dakota, Oklahoma, Oregon, South Dakota, Texas, Utah, Vermont, Virginia, Washington, and Wyoming.
About UpgradeUSA
UpgradeUSA is a leading online company that provides US consumers and small businesses with payment plans for the technology they want and need for home, work, and school. UpgradeUSA is privately held and is headquartered in Austin, Texas.