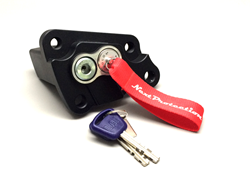 Customers will be able to add the RoadLoK to their motorcycle at the time of purchase, which will be a great value-add...
(PRWEB) June 25, 2014
RoadLoK Security, a California-based designer and manufacturer of patented motorcycle locking systems has partnered with MotoLease, a motorcycle financing and extended service contract provider, to bring the innovative RoadLoK system to powersports dealerships across the United States.
The dealer program offers special financing of the locking system during the purchase of a new or used motorcycle. "By offering the RoadLoK system to customers at the time of vehicle purchase, we are able to help the rider safely protect their new investment and give them a competitive financing plan that can be combined with the new vehicle payment plan," explained Adam Xavier, CEO of RoadLoK Security.
MotoLease will be distributing the locking systems to dealerships within the MotoLease network under the brand name NextProtection. The locking systems will be available to customers financing motorcycles with payment options not offered through any other distributor or retailer.
"Customers will be able to finance the cost of the RoadLoK at the time of vehicle purchase, which will be a great value-add for both the customer and the dealer," commented Emre Ucer, President of MotoLease, LLC. "Dealers in our network will offer both our competitive financing and warranty packages along with advanced security solutions for their customers, giving them unmatched value as Authorized MotoLease Dealers."
The program will be available through the MotoLease dealer network beginning on July 1st, with plans to offer similar financing options on the locking systems through the NextProtection Online Store in the early fall.
About RoadLoK Security
RoadLoK Security was founded in 2005 to design and manufacture patented locking systems for motorcycles, scooters and off-road powersports vehicles. The company distributes products worldwide under the brand name RoadLoK. The company holds multiple United States Patents and Trademarks for their line of locking systems.
RoadLoK Security is a California-based company with distribution centers located in Southern California, Maryland and Australia with plans for distribution throughout Asia in 2014.