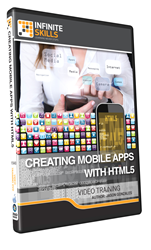 Learn Creating Mobile Apps with HTML5 at your own speed.
(PRWEB) June 25, 2014
Software training firm Infinite Skills Inc. last week released its "Creating Mobile Apps with HTML5 Tutorial," an intermediate course teaching new elements of HTML5 that support key features in web apps for mobile browsers, such as using local storage, geolocation, and camera interaction.
HTML is the markup language used for structuring and presenting content on the web. The latest version, HTML5, provides a number of improvements in its ability to incorporate multimedia and improve consistency between devices and browser sizes.
Infinite Skills' "Creating Mobile Apps with HTML5 Tutorial," is designed to help both new and experienced developers begin including these enhancements in their web apps, and learn best practices to avoid repetitive and unnecessary code.
Creating Mobile Apps with HTML5 Training Video - Streaming
Course author Jason Gonzalez is a user interface developer and freelance web designer and app developer. With a background in education, Gonzalez has developed web apps for schools and universities, as well as for scientific and commercial companies. His expertise is in building front-end applications using Bootstrap, Ruby on Rails, and other leading-edge frameworks.
Here, Gonzalez focuses on a select group of HTML5 features, introducing users to some well-supported features integral to most web apps, and other leading-edge features currently supported by only a few browsers.
Students will begin by building a wireframe for a basic application and constructing a basic layout. Gonzalez then demonstrates how to configure an app to interact with local storage, and use handlebars to create templates.
Other chapters demonstrate how to embed camera support in a web app, how to detect and display network status, add geolocation, and more.
"My goal is to give you some of the building blocks to build your own apps," Gonzalez says.
"The key things are how to use modern front end frameworks and libraries to build fast
and avoid repetitive work."
Free demo videos and a full list of course contents can be found on the Creating Mobile Apps With HTML5 training page of the Infinite Skills website:
http://www.infiniteskills.com/training/creating-mobile-apps-with-html5.html.
Infinite Skills offers its Creating Mobile Apps with HTML5 Tutorial either as a DVD or a direct download from the company website at a retail price of $49.95, or as part of its monthly subscription service available at a rate of $25 per month. All titles and formats are compatible with Mac and Windows operating systems. Shipping is available around the globe. Additionally, Infinite Skills tutorials are supported by project files which correspond to examples in the videos, allowing users to work alongside experienced instructors right on their computer or iPad.
About Infinite Skills Inc.
A leader in the field of software training, Infinite Skills designs its courses on a task-oriented model, teaching complex skills by providing hands-on examples and guiding users as they carry out essential functions. Infinite Skills offers a wide range of software titles available as DVDs, digital downloads, and in iPad editions. Infinite Skills now offers a subscription service, providing access to all its training content for a monthly fee, keeping with company's aim of delivering professional training to customers anywhere they want to learn.