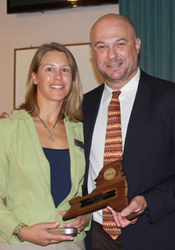 Please join us in congratulating all of our 2014 Award and Grant recipients on doing their part to provide service, support, and a bright future to the profession of AT!
Jamestown, NY (PRWEB) June 26, 2014
On Saturday, May 31, 2014, the New York State Athletic Trainers' Association (NYSATA) presented awards to their newest Hall of Fame inductee, Andy Smith, MS, ATC (Canisius College, NY), and their John Sciera Service Award winner, Kristy Hart, MS, ATC, CSCS (Brockport, NY). They were recognized and presented with plaques during NYSATA's business meeting at their 2014 educational conference in Jamestown, NY. Additionally, the Joe Abraham Award was presented to athletic trainer Meg Greiner, MS, ATC (Hendrick-Hudson School District) during the winning school's School Board Meeting.
NYSATA's Hall of Fame Award was initiated in 2000 with the hopes to formally recognize the many athletic trainers who have truly provided distinguished service to the athletic trainers of NYS. This year's award winner is no exception, giving his time and energy to offer outstanding service to NYSATA that helped propel the AT profession forward in NYS. Andy Smith, MS, ATC, Head Athletic Trainer and Adjunct Instructor at Canisius College, has served in various roles for NYSATA, including Treasurer, Scholarship chair, and President. Although he contributed throughout his tenure, it was during his role as President of NYSATA in which Smith was able to make a significant impact. It was shortly after athletic trainers, thanks to the help of NYSATA leadership, had finally achieved certification in NYS that Smith took over as acting NYSATA President. During this time and with AT certification in place, the NYS High School Regulations, under the NY State Education Department (SED), were outdated and needed to be updated. This was no easy project, but, along with the assistance of other key NYSATA leaders and members, he diligently pursued it. Smith's hard work eventually paid off - he was able to achieve the desired end result of amending the Regulation governing the High School Athletic Trainers' Scope of Practice (NYCRR x135.4(c)(i)(d)). One significant aspect of the amendment was that it required all ATs in the high school setting to maintain current AED Certification.
Smith also served at the District 2 level, the Eastern Athletic Trainers' Association (EATA), the National Collegiate Athletic Association (NCAA), the National Athletic Trainers' Association (NATA), and the Board of Certification for Athletic Training (BOC). Additionally, given his experiences with athletes and sudden cardiac death, Andy has helped NYSATA partner with Parent Heart Watch (PHW) and spoke at their conference this past January.
The John Sciera Service Award, given in recognition of members or supporters for their service and/or outstanding contribution to the profession of AT in NYS, was awarded to NYSATA Public Relations (PR) Chair, Kristy K. Hart, MS, ATC, CSCS, (Brockport, NY). In her role as PR Chair, NYSATA relied heavily on Ms. Hart in developing creative ways for the NYSATA membership to get involved in the annual National Athletic Training Month (NATM) campaign in NYS. Along with support from other NYSATA council members and committee chairs, she successfully initiated activities such as an AT student video contest, a Facebook photo contest and a Twitter trivia contest. Not only was she successful in assisting NYSATA to promote athletic training across NYS with these initiatives, the efforts significantly contributed to NYSATA winning the 2013 NATM award in the NATA's PR contest for "Best State Effort". Much to Hart's continued efforts in leading these activities, NYSATA was thrilled this year to repeat by winning the NATM "Best State Effort" award again in 2014.
In addition to NATM, Hart has been instrumental in providing service to NYSATA through the writing of regular press releases at the rate of two per month in 2013 and 2014. This undertaking allowed NYSATA to reach a variety of audiences and educate readers about athletic training in general, as well as update them on the many events and activities in which NYSATA and its members were engaged, including involvement with other NYS professional organizations.
While NYSATA had been contemplating celebrating and recognizing athletic trainers at the high school and college level, it wasn't until last year that Hart organized 'AT Recognition Week' in NYS for the fall sports season. This was a successful event in which ATs were recognized at a home event during the week. She also assists with regular updates to the website, and continues to manage promotion and outreach events that help with sports safety awareness and legislative efforts in NYS. In addition to her volunteer position with NYSATA, Hart serves on the NATA District 2 Employment Resource Committee and currently works as a per diem athletic trainer in the Rochester area. NYSATA continues to appreciate the work that Ms. Hart provides as a volunteer to their association; her efforts and dedication made her a very worthy candidate for the John Sciera Service Award.
The Joseph Abraham Award, can be given annually to a NYS high school that has provided outstanding athletic injury care to the student-athletes of their school. This award is presented to the athletic trainer at the winning high school during a school-organized meeting time. The award is named after Joe Abraham, a pioneer during his 40 years as an athletic trainer and one of the first professionals to recognize the need for quality athletic training programs at the high school level. Hendrick Hudson High School (HHHS) (Montrose, NY) is this year's winner of the Abraham Award. The HHHS athletic trainer, Meg Greiner, MS, ATC, accepted the award on the school's behalf from NYSATA Treasurer, David Byrnes, MS, ATC in a ceremony during halftime of a home boy's lacrosse game in early May. Greiner has over fifteen years of experience as a certified athletic trainer and continues to provide sports healthcare to the 60-plus varsity, JV, and modified sports teams as HHHS. She is fortunate to work in excellent facilities at the school, including a 250-square-foot athletic training room for treatment and rehabilitation – a size necessary for the more than 800 student-athletes at HHHS. The team physician, a local pediatrician, assists Greiner and HHHS directly with their Concussion Management program and is onsite often to enhance the quality of care during events.
In order to give back to its membership in a meaningful and useful way, NYSATA recently developed a Secondary School Grant program to help high school athletic trainers better equip their facilities. Upon announcing the grant in the spring of 2014, NYSATA was contacted by a not-for-profit company, The Agency for Student Health Research (San Diego, CA), asking to contribute matching funds to this program. In this first year there were fifteen applicants and NYSATA was able to use the monetary allotment to award three grants. Sue Abel, MS, ATC from Warwick Valley HS, will receive a $1,000 grant to purchase rehabilitation equipment and CPR training equipment. Two five-hundred dollar grants will go to Melissa Donato, MS, ATC from Tonawanda HS for the purchase of vacuum immobilizers (splints) to be used in emergency situations and Carla Pasquarelli, ATC from Amsterdam HS to buy a portable treatment table to allow her to provide appropriate care in her venues beyond the AT room.
NYSATA would also like to publicly congratulate Jennifer McKeon, PhD, ATC, CSCS (Ithaca College) who is NYSATA's 2014 Research and Injury Grant recipient for a research project entitled, "When will my athlete be back to play?" This project is proposed to generate prognostic resources for ATs. The grant funds will be used to purchase a software program used to help analyze return-to-play timelines in athletes with sport-related concussions.
In January, NYSATA recognized its other 2014 award and scholarship recipients during the business meeting at the regional EATA Conference in Mashantucket, CT. Please join us in congratulating all of our 2014 Award and Grant recipients on doing their part to provide service, support, and a bright future to the profession of AT!
NYSATA, founded in 1976 and incorporated in 1989, stands to advance, encourage and improve the profession of athletic training (AT) by developing the common interests of its membership for the purpose of enhancing the quality of healthcare for the physically active in NYS. Athletic training is practiced by certified athletic trainers (ATs), who have expertise in the assessment, emergency management, rehabilitation and prevention of acute and chronic sport-related injuries, illnesses and conditions, including concussions. Comprised of over 1,200 certified and practicing athletic trainers, NYSATA is the state-wide affiliate of the regional EATA and District 2 of the NATA.