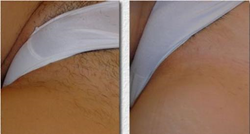 Laser treatments cost less than half of what a year's worth of shaving costs.
Brooklyn, NY (PRWEB) June 25, 2014
Panim Yaffot Salon announced today that surveys prove that the cost of laser hair removal treatment comes to less than half of what a half a year of shaving costs on the average. The study was comprised from a survey of over 2 million women and what they spend on razors and shaving supplies over the course of a year.
Year after year, Panim Yaffot Salon has been voted the number one laser hair removal center in Brooklyn. Panim Yaffot is a full service salon located at 4212, 13th Avenue, in Brooklyn.
Brooklyn women are loving the money-saving benefits of laser hair removal at Panim Yaffot. Over a lifetime, a woman can spend more than $12,000 buying not only razors, but also creams, gels and other types of associated shaving products. When a person evaluates hair removal in terms of lifetime benefits, it is clear that laser treatment is a sound investment.
National studies suggest that the number of women turning to laser hair removal is on the rise. Women are no longer sitting on the sidelines and accepting razors as the "normal" way of getting rid of hair. They are crunching the numbers and realizing that laser treatments are more cost-effective.
Laser treatments cost less than half of what a year's worth of shaving costs. The difference is that laser hair removal is permanent. Once a woman pays the upfront fee for the service, she reaps the rewards of a hairless body without ever having to shell out another dime. Shaving, however, is only temporary. A woman who wants to stay hairless with this method has to continuously pay the hefty $10,000 a year price tag.
It's not just about the money. The time commitment associated with shaving is an issue too. The average woman shaves about 12 times per month and spends about 10 minutes per session. Over a year's time, these numbers add up. The resource of time is just as valuable as money. The sad thing about time is that once it's lost, there is no way to earn it back.
Laser hair removal is a one-time procedure. Once the hair is removed from an area of the body, it's gone for good. There is no maintenance needed to maintain the results. A woman can spend the next 50 plus years of life never worrying about shaving another patch of hair off her body.
Imagine how liberating it would feel to never have to search the couch cushions again trying to find stray dollars to buy a new razor blade. Imagine never having to dash to the store after a hard day's work just to grab a can of shaving gel. The money and time saved over the course of a year can be put to better use. The value of both could easily add up to a tropical vacation.
Visit their site at http://www.panimyaffotsalonspa.com or call them at 718 851-8140. Walk ins are accepted.