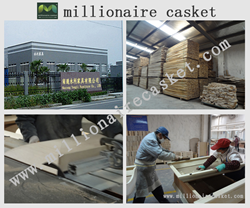 (PRWEB) June 27, 2014
Recently, MillionaireCasket.com, a well-known casket manufacturer from China, has unveiled its new selection of rental caskets. According to the company's chief executive officer, all items included in the new range are excellent.
"We take pride in our newly released rental caskets. All these items are made from excellent materials. Now, all our clients can get a discounted price, up to 30 percent off; the special offer will last until July 07, 2014. I believe worldwide distributors will like the new items," he says happily.
A few months ago, the company announced its first rental casket collection. Almost all items included in that range has been highly prized by worldwide distributors. Its top quality caskets famous for selected materials, reasonable prices and nice craftsmanship. They are provided in many specifications; most of them are available at low rates now.
It is worthy to mention that MillionaireCasket.com always takes everyone's budget into consideration. In the recent years, it has won thousand of satisfied clients across the world. In the next few months, the company will hold a product show in England.
About MillionaireCasket.com
MillionaireCasket.com is a leading casket company that focuses on the business of casket wholesale. This company offers an exquisitely crafted line of all kinds of metal caskets, solid wood caskets, veneer caskets, cremation caskets, rental caskets, orthodox caskets, infant or over-sized caskets and European style coffins. The standard quality control policy is strictly applied here, and a third party quality assurance is also available.
More information can be found at http://www.millionairecasket.com/63-rental-caskets.