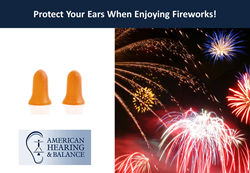 Los Angeles, CA (PRWEB) June 30, 2014
As families get ready to enjoy fireworks shows on July 4th, American Hearing & Balance would like to remind Los Angeles-area residents that it only takes a few simple actions to prevent lifelong hearing problems. We all know that fireworks are loud, but readers may be surprised to learn just how loud. Fireworks can reach decibels levels of 120 to 140. For noises this loud, the American Academy of Audiology lists the safe exposure time as zero minutes. Essentially, that statement means that hearing protection is a necessity to avoid noise-related hearing damage. The decibels levels experienced by each individual attending a fireworks show vary as a function of distance and age.
Children experience fireworks as louder than adults. Infants experience them the loudest of all. This is because they have narrower ear canals. Even if parents feel that they are sitting far enough away from the show that the noise level is appropriate for them, they need to bring along ear protection for the youngsters. To keep ears safe on the 4th and prevent short-term and long-term hearing damage, follow these simple tips.

Sit at least 500 feet from where the fireworks are launched. Fireworks noise for those 800 feet away ranges from 88 to 126 dB, but from 10 feet away, it's 155 dB!
Your environment is too noisy if you have to shout to be heard by someone standing next to you.
Pack ear protection for every member of the family. Ear plugs can be obtained from sporting goods stores and drug stores for a few dollars. (These plugs may be too big or children under age 7 or 8, so for younger ears consider child-size earmuffs. Ear protection must fit properly to work.)
If you experience pain, ringing or buzzing in your ears, move farther away.
About Dr. Keith Michaels, Au.D.
Dr. Keith Michaels, Doctor of Audiology and Hearing Instrument Specialist at American Hearing & Balance, received his Masters Degree from California State University, Los Angeles and his Doctorate in Audiology at Florida University. Dr. Michaels has helped fit thousands of people with hearing aids and loves to work with people who have problems with their balance and/or vertigo.
About American Hearing & Balance:
American Hearing & Balance is a family owned business providing superior hearing healthcare services in Los Angeles and surrounding communities with seven offices in Los Angeles, Manhattan Beach, Santa Monica, Marina del Rey, Westchester, Torrance and Glendale. They offer a full range of diagnostic and preventative hearing healthcare professional services, including hearing tests, hearing aids, and rehabilitative and counseling services for those with hearing loss. Additionally, American Hearing & Balance stocks all the most common hearing aid accessories including cleaning supplies, hearing aid batteries and cell phone adapters. American Hearing & Balance is dedicated to keeping abreast of the latest improvements and technological advancements in the hearing industry and is committed to offering the most current options to patients.
Contact:
Dr. Keith Michaels
http://americanhearingbalance.com
American Hearing & Balance
3875 Wilshire Blvd, Suite 302
Los Angeles, CA 90010
(213) 536-4543
American Hearing & Balance
2809 North Sepulveda Boulevard
Manhattan Beach, CA 90266
(310) 803-9700
American Hearing & Balance
1318 2nd Street, Suite 1
Santa Monica, CA 90401
(310) 773-3972
American Hearing & Balance
4640 Admiralty Way, Suite 1020
Marina del Rey, CA 90292
(310) 773-4453
American Hearing & Balance
6229 West 87th Street
Westchester, CA 90045
(310) 803-9848
American Hearing & Balance
20911 Earl Street, #470
Torrance, CA 90503
(310) 803-9501
American Hearing & Balance
633 North Central Avenue
Glendale, CA 91203
(818) 396-8161