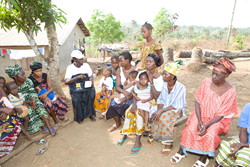 If these communities are to have a fighting chance in preventing further transmission, they will need serious material assistance from the outside and now
(PRWEB) June 27, 2014
Amidst fears that an Ebola outbreak is spreading out of control in parts of West Africa, the anti-poverty organization BRAC is calling for additional resources to stop the spread of the deadly virus.
"People are now afraid," said Tapan Karmakar, country representative of BRAC Sierra Leone, who added that funds for travel and food costs are needed for community health workers to reach remote areas.
"BRAC is now distributing leaflets and posters in all six of the districts in Sierra Leone in which our health programs operate" including Kenema, the site of the latest outbreak, says Karmakar. Previously the virus had been concentrated mainly in Kailahun, near the border with Guinea, where the majority of deaths have occurred so far.
Affecting Guinea, Liberia and Sierra Leone, the West African Ebola outbreak is considered the worst ever in terms of death toll and people affected. Within Sierra Leone, the epicentre of the epidemic has been the Koindu chiefdoms in the eastern district of Kailahun.
Community health workers trained by BRAC (with support from donations) are going door to door, educating people on how to stop the deadly virus, which is spread mainly through human-to-human contact, including unsafe funerary practices. BRAC's all-female frontline cadre of 400 community health promoters in Sierra Leone, who sell basic health goods and services to their neighbours, have already received refresher courses on community sensitization on Ebola.
Taia Peace Foundation is seeking to distribute disposable gloves and chlorine for care givers and those who have contact with the diseased and dead. "Minimal medical infrastructure exists where the Ebola virus is now active. If these communities are to have a fighting chance in preventing further transmission, they will need serious material assistance from the outside and now," says Wright, who co-founded Taia Peace Foundation in 2007 to assist rural communities in Sierra Leone.
Far more work and resources are needed, BRAC's Karmaker said. BRAC Sierra Leone has printed and distributed 2,000 leaflets so far and is seeking funds to print 10,000 more and to facilitate health workers' travel and food costs.
The virus, which causes fevers, vomiting blood, bleeding, skin rash, bloody diarrhoea, and organ failure, has killed more than 350 people in Guinea, Liberia and Sierra Leone since the epidemic began in March.
Those wishing to contribute to the ongoing response can donate online to BRAC USA.
About BRAC
BRAC, a development organization founded in Bangladesh in 1972, is a global leader in creating opportunities at scale as a means to end poverty. With more than 100,000 employees, it is the world's largest non-governmental organization, touching the lives of an estimated 135 million people in 12 countries using a wide array of antipoverty tools such as microfinance, education, healthcare, legal rights training and more. Learn more at BRAC.net.
About BRAC USA
BRAC USA is an independent, US-based grantmaking affiliate of BRAC formed in 2006 to advance and support BRAC's global mission to create opportunities to unleash human potential and end poverty. Download our annual report here.
About Taia Peace Foundation
Taia Peace Foundation (TPF), a 501(c)(3) non-profit organization established in 2007, is the rural development arm of Taia Lion Resources (TLR), a leading ethical and socially responsible mineral exploration company currently operating in Sierra Leone. The founding mission of Taia Peace is to assist rural African communities in overcoming the so-called "resource curse." The seed for the creation of Taia Peace germinated near the Taia river in central Sierra Leone, but our hope is to work at the behest of communities across Africa as they endeavor to remove the social and economic barriers that inhibit lasting peace.
Media Contact
Scott MacMillan
T: 212 808 5615
C: 508 310 3018
scott(at)bracusa(dot)org