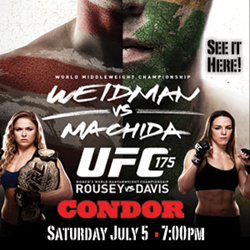 San Francisco, CA (PRWEB) June 27, 2014
Condor Club, San Francisco's home for all UFC fights, is serving up some great food and drink specials in a fun atmosphere and with the quality adult entertainment that is expected of the topless club, as they screen UFC 175 Weidman vs. Machida and Rousey vs. Davis on Saturday, July 5.
Chris Weidman and Lyoto "The Dragon" Machida will compete for the World Middleweight Championship. Plus, Ronda "Rowdy" Rousey will battle Alexis Davis for the Women's Bantamweight Championship. Both fights are closely matched and Condor Club is the only place to watch them both live.
"At Condor Club, we know just how to make your experience a great one every time you walk into the club," said Axel Sang, director of marketing for BSC Management. "When we screen UFC fights, we want to make sure that all of our guests are having a great time!"
Condor Club is offering food and drink specials during the fight time. For $9.95, customers can enjoy a draft beer and a burger or a draft beer and wings. Guests also have the opportunity to meet and watch the fights with the beautiful Condor Ring Girls.
All UFC fights are screened live on 90-inch HD screens with sound. There's no better way to watch! The club encourages all their guests to join them at 6 p.m. Saturday, July 5, in a comfortable atmosphere for some exciting entertainment. Condor Club is located at 560 Broadway St., San Francisco, CA 94133.
About Us:
Condor is San Francisco's original gentleman's club. In 1964, they became the first topless club in the United States. Since then, they have provided the Bay Area with quality adult entertainment and superior service. The club features a VIP lounge, champagne rooms, bottle service, topless dancing, and concierge services, all in an effort to provide their customers with a special and exclusive experience. Everyone is sure to have a good time at Condor. With live music, a full bar and restaurant, and topless adult entertainment, there's no better gentleman's club around. Condor Gentleman's Club is open 6 p.m. – 2 a.m., Monday through Wednesday, and 12 p.m. – 2 a.m., Thursday to Sunday. For more information, visit http://condorsf.com/ufc-175-weidman-vs-machida-rousey-vs-davis or call 415-781-8222.