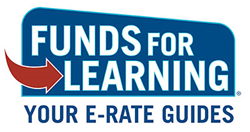 92 percent of survey applicants expressed that the E-rate program is critical to their success
EDMOND, OKLA. (PRWEB) June 30, 2014
As the need for student Internet access increases, the E-rate program is at a crossroads. To stimulate discussion on this topic, Funds For Learning, the nation's largest E-rate consulting firm, releases the results of its 2014 E-rate Survey at the ISTE 2014 Conference and Expo in Atlanta. The data serves to inform debate over the direction of the program and involve those who haven't had an opportunity for their voices to be heard.
With 92 percent of survey applicants expressing that the E-rate program is critical to their success, the results of this survey support that E-rate reform implications are important to districts across the nation. Funds For Learning shared the results with the FCC, effectively giving a voice to administrators and school technology leaders. Highlights of the results include:

58 percent of respondents expect their budget for telecommunications and Internet access to increase over the next five years.
43 percent said that their technology infrastructure is lagging, and 51 percent said their telephone infrastructure is lagging.
48 percent feel that their Internet access is not adequate for their current needs.
In addition to raising the funding cap, the two most popular E-rate changes were to have multi-year funding commitments and to create a type of simplified application paperwork.
"The survey results come at a time when the FCC is seeking to modernize the E-rate program," said John Harrington, CEO of Funds For Learning. "It's important to give people a platform to express their sentiments on the changes, since the reform will have immense impact on their districts."
Survey respondents include 626 school and library technology leaders representing 44 states and various city, town, suburb and rural districts. The non-scientific study was conducted May 20- June 8, 2014.
Further analysis of the survey results will be available on http://www.fundsforlearning.com.
About Funds For Learning
Funds For Learning, LLC, is an E-rate compliance firm specializing in guiding E-rate applicants through the E-rate regulatory process and is an advocate for the use of educational technologies and student Internet access. Formed in 1997, Funds For Learning provides professional advice and assistance relating to the E-rate program to clients in all 50 states. For more information, visit http://www.FundsForLearning.com, tweet @FFL or phone 405-341-4140.
# # #