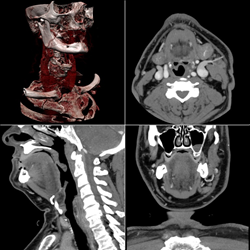 RADSpa MPR/MIP/3D provides effective and interactive volume visualization tools with the ability to render large amounts of data efficiently.
Bangalore, India (PRWEB) June 29, 2014
Telerad Tech RADSpa Advance Viewer MPR/MIP/3D components are used for post-processing and is designed to assist radiologists in the diagnostic analysis, visualization and quantification of CT and MR images. This device supports enhanced visualization and analysis techniques such as multi-planar and oblique reformats, maximum intensity projections, curved MPR, volume sculpting, interactive VOI (Volume-Of-Interest) and blinking of images acquired at different time points.
RADSpa MPR/MIP/3D provides rich suite of medical imaging tools which are normally available on high-end workstations. The software package includes tools to allow the radiologist to manipulate and fly-through images for enhanced visualization. It also allows user to isolate and view sub-volumes of interest very easily and in real-time, using easy click-and-drag mouse operations.
"With the advent of increasing amount of radiology data generated by modern spectrum of modalities and the teleradiology practice growth, it has become a necessity for radiologists to use advanced 3D visualization techniques for interpreting volumes of images, especially over wide area networks.
RADSpa MPR/MIP/3D provides effective and interactive volume visualization tools with the ability to render large amounts of data efficiently. Viewer also supports the review and interpretation of multimodality images, including PET/CT, SPECT/CT and PET/MR." said Mr. Venumadhav Vedula R&D head