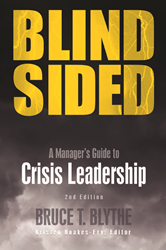 Blythe's book is different…a step-by-step guide to process excellence…a veritable encyclopedia of crisis leadership, rich in strategic insights, invaluable. --Daniel Diermeier, PhD, Kellogg School of Management, Northwestern University
Brookfield, CT (PRWEB) June 30, 2014
World-wide shock and outrage followed news that a text message had been sent by Malaysian Airlines in March 2014 to families of passengers on Flight MH370 to inform them that there appeared to be no survivors of the missing flight. To many, delivering such a critically important message via social media seemed not only impersonal but cruel.
"Interacting with emotionally wounded, hurting family members… is an enormously important part of crisis management," says global crisis advisor Bruce Blythe. In the newly released second edition of his classic "Blindsided: A Manager's Guide to Crisis Management" published by Rothstein Publishing, he includes a unique and practical guide for addressing victims' families – Dos and don'ts for communicating tragic news with empathy and dignity in person.
"Providing helpful and caring assistance to traumatized families is the right and humane thing to do. It'll also decrease the likelihood that disgruntled relatives, neighbors, or employees will complain to the media – or lawyers," Blythe emphasizes. He also makes clear that those assigned to these critical responsibilities must have training, skill, empathy, sensitivity, relevant legal knowledge, personal boundaries, and stamina.
Blythe has logged 30 years working side-by-side with corporate and government leaders facing natural and human-made disasters, including the Oklahoma City bombing, 9/11, commercial air crashes, Hurricanes Andrew and Katrina.
Based on these and other experiences, he offers timely insights and practical advice for dealing with grieving families, including these 5 tips:
1) The worse the news, the more important it is to deliver it in person!
2) Even if the media has already reported "no survivors" to the disaster, a personal visit to each home should still take place.
3) The company representatives who meet with the families need to be trained in how to deliver the news and respond to grief and anger with sensitivity and compassion – and know what to say and not say in an emotionally charged situation.
4) Those "family representatives" delivering the news should speak the native language of the family and be familiar with the culture and customs – or a skilled translator should be available.
5) Since families are in the initial stages of shock and grief, do everything you can to protect them from outsiders -- media representatives seeking statements, or lawyers or insurance companies with documents to be signed.
Lyndon Bird, Technical Director of the Business Continuity Institute calls the new edition of this business classic "practical, down-to-earth advice in dealing with crises. It's an excellent book which outlines step-by-step procedures on how to manage crisis situations and minimize fallout on organizations while keeping a moral compass."
"Blindsided: A Manager's Guide to Crisis Leadership, 2nd Edition," by Bruce T. Blythe is available from Amazon.com and other booksellers.
Bruce T. Blythe is an internationally acclaimed crisis management expert. He is the owner/chairman of three companies that provide employers with a continuum of crisis preparedness, crisis response, and employee return-to-work services. He has been personally involved in crises such as the Oklahoma City bombing, 9/11, commercial air crashes, Hurricanes Andrew and Katrina and other natural disasters, and reputational crises. He is an executive coach to Fortune 100 managers and as a certified clinical psychologist has been a consultant to the FBI on workplace violence and terrorism. Widely regarded as a thought leader in the crisis management and business continuity professions, Blythe has appeared on numerous TV/cable news programs and provides commentary in major business media. He is a keynote speaker at 50+ national and international conferences per year.
Rothstein Publishing is the premier source of books and learning materials about Business Resilience - including Crisis Management, Risk Management, Business Continuity, Disaster Recovery, and Emergency Management. Industry-leading authors provide current, actionable knowledge, solutions, and tools that can be put into practice immediately. Founded in 1984 by Philip Jan Rothstein, the company remains true to its commitment to prepare leaders and organizations to protect, preserve, and recover what is most important: people, facilities, assets, and reputation. Rothstein Publishing is a division of Rothstein Associates Inc., an international management consultancy. http://www.rothsteinpublishing.com
See FaceBook
See LinkedIn