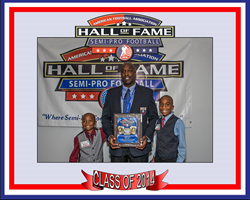 Another outstanding event as usual.
Binghamton, NY (PRWEB) July 02, 2014
For the third year, the Pro Football Hall of Fame in Canton, Ohio was the site for the American Football Association's 34th Annual Semi-Pro/Minor League Hall of Fame Induction Dinner on Friday, June 27th. Eighteen individuals representing semi-pro/minor league football teams across the country were enshrined as 'legends' of their level.
This year's semi-pro football enshrinement festivities began on Thursday evening, June 24, 2014, at the Pro Football Hall of Fame in Canton, OH with the annual AFA/HOF Alumni Huddle cocktail party. The "Huddle" provided attending HOF Alumni an opportunity to meet and greet the new group of semi-pro/minor league football legends before they were inducted.
On Friday evening, the Class of 2014 was honored by AFA Alumni, family, and friends as they received their commemorative Semi-Pro/Minor League Hall of Fame recognition plaques. Craig Ochoa (Class of '03) served as MC, while former teammates and/or family members presented the new inductees to the dinner crowd. Each inductee provided very sincere and touching testimonies about their backgrounds and careers. The highlight presentation of the evening was made by the 6 and 8-year-old sons of inductee, Byron Allen Sr. Their presentation of their father exemplified what mentoring and fatherhood is all about
This year, we were also especially honored to induct Kenny Washington posthumously, into the Pioneer Category. Kenneth S. "Kingfish" Washington was born in Los Angeles, California in 1918. He graduated from the University of California Los Angeles in 1939. At UCLA, he teamed with Jackie Robinson and Woody Strode. Kenny went on to become the biggest star and most popular player in two minor professional leagues on the West Coast, playing for the Hollywood Bears of the Pacific Coast Pro Football League in 1940, 1941, and 1945, and for the San Francisco Clippers of the American Football League in 1944. In 1956, Washington was inducted into the National Football Foundation Hall of Fame, and his number 13 jersey was the first to be retired at UCLA. Kenny was one of the first Black players to sign a contract with the current manifestation of the NFL via the Los Angeles Rams.
The induction dinner event was also viewed by friends, family, and fans around the world via live webcast. There were over 500 viewers connected to this webcast, and some from as far away as Poland!
The enshrinement of this year's class of 18 new Hall of Famers will see the association's 34-year total number of inductees expand from 691 members to 709 members. Since the inaugural enshrinement in 1981 (including the Class of 2014), the AFA has recognized 416 players; 103 coaches; 87 executives; 30 officials; 24 pioneers; 20 media/historians; 13 trainer/equipment men; 6 associated with youth football; 5 involved with international semi-pro; 4 from the women's level, and even 1 'super fan.'
2014 Hall of Fame Sponsor Listing - click here.
2014 Hall of Fame Dinner Brochure - click here
Our Facebook Photo Album is located at https://www.facebook.com/media/set/?set=a.10152505640977415&type=1&l=dfd4700a68.
AFA Logo Wear can be purchased at http://mkt.com/american-football-association.
AFA Monthly Online Auction at https://www.biddingforgood.com/AFAWeeklyAuction.
Webcast video of the 2014 Hall of Fame Inductions can be viewed at: http://www.gnuvisions.com/players/archive.php?x=445
Copies of this video can be obtained by contacting 315-782-8383 Office or 315-783-2171 Cell.
Official photos from the 2014 Hall of Fame Inductions can be viewed at: http://www.adcomphoto.phanfare.com/6580709
About the American Football Association:
The American Football Association is a national 501(c)(3) non-profit, tax exempt corporation in its 34th year of operation, and is dedicated to the advancement of adult (semi-pro) football from coast-to-coast. Our slogan is Semi Pro & Proud®. We are not affiliated with any other national semi-pro/minor league organization. The AFA, Hall of Fame, American Football News™ and AFA logo design are registered trademarks of the American Football Association. All other AFA-related trademarks are trademarks of the American Football Association.