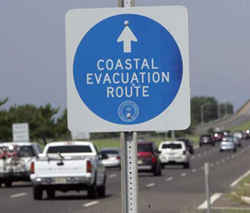 Weather can be unpredictable but a bit of preparedness can go a long way.
Neptune, NJ (PRWEB) June 30, 2014
With June signifying the start of a 6 month long hurricane season coupled with some harsh weather during hurricane season in recent years, NY and NJ fire equipment company All Hands Fire Equipment offers some strategies to help families prepare and react sagely in case of a hurricane or other severe weather.
Donald Colarusso, of AllHandsFireEquipment.com says, "Not only is it hurricane season but tornadoes, tropical storms, and other severe weather conditions mean that emergency preparedness can save your home and save lives. Weather can be unpredictable but a bit of preparedness can go a long way."
Hurricane Preparedness Tips when storms are Forecasted:
1. Physically investigating the exterior of your home to identify and address potential hazards that could pose a danger in severe weather should be done routinely. Securing loose items such as toys, ladders, heavy tools, and patio furniture and trimming low hanging tree branches could also prove wise. Inspecting gutters and downspouts for clogs to minimize risk of water entering the home is always good practice, as well.
2. Being prepared for power outages with additional generator fuel, flashlights, batteries, matches, fresh water, and additional ready-to-eat food supplies.
3. Checking stock levels for your first aid kit and replace items as necessary.
4. Having a communications method to stay abreast of news and updates during severe weather, such as battery-powered or crank-operated radio.
5. Being aware of local evacuation plans and routes in case you need to leave the home is important.
Additional Severe Weather Best Practices
1. Gassing up vehicles before the storm in case of fuel shortages is a good idea.
2. Investing in storm shutters, particularly if the area is prone to storm damage.
3. Talking to family members about safe practices during weather emergencies. Just like fire drills, preparing kids for emergencies, hurricane drills or severe storm drills could also be helpful in the event of a severe storm and power outage.
4. Double checking insurance coverage to ensure the right coverage is in place in case of storms.
5. If a severe storm is forecasted, it's wise to have a bug-out bag packed and ready to go in case of evacuation.
About All Hands Fire Equipment
All Hands Fire Equipment is a family-owned company based in New Jersey and offers fire and safety training as well as an online store with a variety of fire equipment, emergency preparedness items, and more to help people at home as well as on the toughest jobs. In addition to rescue and safety equipment for fire, technical rescue, and apparel designed for the toughest jobs, the company offers a wide variety of emergency preparedness supplies, such as survival gear, disaster supplies, emergency food supplies, and more.
Contact :
All Hands Fire Equipment
506 Atkins Avenue
Neptune NJ 07753
Email: sales(at)allhandsfire(dot)com
Follow All Hands Fire Equipment on Facebook at http://www.facebook.com/AllHandsFire and on Twitter: at http://twitter.com/allhandsfire.
###