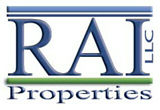 RAI Properties is a successful, locally owned commercial construction and property management company with a ten-year track record of making significant contributions to the economic climate of Jefferson County.
Jefferson County, West Virginia (PRWEB) June 30, 2014
RAI Properties, LLC, which was founded for the express purpose of fostering economic development in Jefferson County, West Virginia, was awarded the Jefferson County Chamber of Commerce's George E. Vickers Business Award, which honors a business that has shown leadership in promoting the expansion and prosperity of the area. The award was presented at the Chamber's 55th annual banquet on June 30th, 2014. West Virginia Secretary of State Natalie Tennant was the keynote speaker at the event.
"RAI Properties has not engaged in any other building or development projects anywhere else," said Managing Partner Jim Ruland, who accepted the award. "Our core belief was then and is now that more suitable, state of the art infrastructure would lead directly to company investment, job creation and improved economic conditions close to home."
Since 2003, RAI Properties has invested more than $10 million to advance these goals, and in doing so has built a 19-acre business park, known as Burr Plaza, with more than 95,000 square feet of modern commercial and office space, and is home to 28 businesses and their more than 300 employees. It is the largest stakeholder in the Burr Business Park, a 400-acre prime small business development located between Charles Town and Martinsburg and less than 60 minutes from Washington, D.C. In addition, Burr Plaza is the first business in the Business Park to receive the George E. Vickers Award.
Burr Plaza is the only business/shopping complex in the Eastern Panhandle that has located its property management office on site in order to quickly respond to tenant requirements. Five full-time staff members, including a property manager and maintenance, repair and grounds-keeping personnel, are dedicated to attending to the needs of tenants, and the help desk phone line is manned 24x7, 365 days of the year.
Ruland and his partners believe that they cannot be any more successful than their tenants, and therefore must do all they can to help them succeed. To this end they offer their tenants assistance in marketing their businesses and offer business coaching services in conjunction with the Jefferson County Development Authority, which manages the Burr Business Park.
"I think what truly sets us apart are the values that drive our company," said Ruland. "We believe that the ethics of an organization have as much to do with its achievements as does anything else, and that doing business by always doing the right thing is entirely consistent with the twin goals of profit and perpetuity."
Burr Plaza is a modern, state-of-the-art business complex and the facilities are Energy Star rated, and both International Building Code and Americans with Disabilities Act (ADA) compliant. All buildings include robust communication capabilities, high-speed Internet connections and centralized management of data, voice, video and network resources. RAI Properties designed its seven buildings with controlled access, security monitoring and ample outdoor lighting to provide the peace of mind that comes from working in a safe and secure environment.
The retail section of Burr Plaza consists of three buildings totaling 30,000 square feet and individual unit sizes range from 700 to 3,000 square feet. Minimum interior load bearing walls provide tenants with almost limitless configuration choices. Two, two-story buildings totaling 24,000 square feet comprise the office complex, featuring secure entrances with electronic key access and monitoring, rest room facilities, well-equipped kitchens and break rooms, and open floor plans suitable for a variety of business applications.
RAI Properties is flexible with leasing terms and will develop customized lease arrangements that meet the individual requirements of tenants. Lease rates compare very favourably to the competition and there are no common area maintenance charges. Because the plaza is located within the confines of the county business park, there are no B&O or municipal taxes to pay. In addition, RAI Properties has qualified staff on site to quickly accomplish any and all modifications needed to meet exact tenant requirements. This service is provided at cost of labor and materials only, which results in significant savings to tenants.
Tenants include the Jefferson County DMV, Department of Homeland Security, a dialysis center and a variety of small and medium sized service and retail businesses that serve the larger Jefferson County area.
"RAI Properties is a successful, locally owned commercial construction and property management company with a ten-year track record of making significant contributions to the economic climate of Jefferson County," said Ruland. "The principals and our employees live in the Eastern Panhandle, and we operate Burr Plaza as if our personal reputations depend on it … because they do."