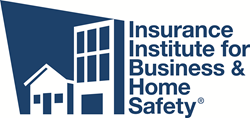 Tampa, FL (PRWEB) July 01, 2014
The Insurance Institute for Business & Home Safety (IBHS) today advised all residents along the East Coast to closely monitor weather conditions and prepare their homes and businesses now for a possible tropical storm or hurricane.
"Meteorologists are forecasting the possible formation of the first tropical depression off the Florida coast within the next few days, which means the time to prepare is now," said Julie Rochman, president and CEO, IBHS. "It only takes one hurricane to devastate an entire community. The evidence is clear that communities in which home and business owners have prepared for hurricanes have less property damage, lower disaster recovery costs overall, reduced government post-disaster aid, and most importantly, fewer lives lost."
IBHS recommends using the following checklist to prepare your property now for the high winds, rain, and flooding that often accompany tropical weather systems.
Outside Surroundings

Secure any parts of a fence that appear weakened or loose.
Trim trees and shrubbery away from structures, and remove any weakened sections of trees that might easily break off and fall onto structures.
Anchor fuel tanks to prevent them from being torn free by flood waters.
When a storm is approaching, move lawn furniture, toys, potted plants, garden tools and other yard objects inside; anchor heavier yard objects deep into the ground.
Windows and Doors

If you have accordion or roll-up storm shutters, make sure they are properly functioning and in good condition. For metal, polycarbonate or plywood shutters, install permanent anchors to make it easier to install them quickly when a storm threatens.
Check doors, windows, and walls for openings where water can get in; use silicone caulk to seal any cracks, gaps, or holes – especially around openings where cables and pipes enter the house.
Inspect your garage door for signs it's pressure-rated – look for a label, solid steel wheels, large metal braces spanning width of the door, and brackets attaching the tracks to the wall. If it is not pressure-rated, purchase a bracing kit from your local hardware store to do it yourself, or hire a licensed contractor.
Roofs and Attached Structures

Inspect your roof cover and overhang to make sure:
• Shingle tabs on roof covers are well-sealed to the top of the shingle below, tiles are not loose, and metal is in good shape and well-attached.
• All vents and soffits (panels that cover the underside of the roof overhang) are made of sturdy material and securely attached.

Inspect porches, carports, canopies, and storage sheds to make sure they are firmly attached and in sound structural condition.
Water Damage Reduction
When flooding is possible, take the following steps to reduce potential water damage:

Place all appliances that are on the ground floor, including stoves, washers, and dryers on masonry blocks or concrete.
Move furniture and electronic devices off the floor, particularly in basements and first floor levels.
Roll up area rugs, and get them off the floor to reduce the chances they will become wet and grow mold or mildew. This is particularly important if the property will be left unattended for an extended period of time and if long-term power outages are a possibility.
Inspect sump pumps and drains to ensure proper operation. If a sump pump has a battery backup, make sure the batteries are fresh.
Shut off electrical service at the main breaker if the electrical system and outlets could possibly be under water.
Find more information on IBHS' hurricane resources page.
About The Insurance Institute for Business & Home Safety (IBHS)
IBHS is an independent, nonprofit, scientific research and communications organization supported by the property insurance industry. The organization works to reduce the social and economic effects of natural disasters and other risks on residential and commercial property by conducting building science research and advocating improved construction, maintenance and preparedness practices.