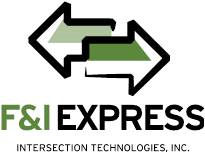 Partnering with F&I Express empowers our common dealers to focus on promoting aftermarket benefits rather than system input.
Southlake, TX (PRWEB) July 02, 2014
Intersection Technologies Inc. – F&I Express® is pleased to announce that Adam Systems has joined our F&I Express® eContracting platform utilizing the F& I Express network of Aftermarket providers. Through the F&I Express network of providers, Adam Systems dealers can gain electronic access to over 60+ providers of aftermarket F&I providers for eRating, eContracting and remittance in a seamless manner.
Founded in 1979, Adam Systems offers auto and powersports dealers a comprehensive, performance-driven, fully integrated dealership management system (DMS). This Microsoft Windows-based platform enables Franchise and Independent dealers to manage their operations with customized options to fit their needs.
"Adam Systems seamless integration into the eContracting capabilities of F&I Express and our 60+ providers, will allow dealers to electronically eRate and eContract all aftermarket F&I products. This enhanced functionality for Adam Systems dealers will provide their dealers a quick and easy process to ensure that all aftermarket products are prepared correctly and quickly while automatically being registered on their aftermarket providers system" said Brian Reed, President and CEO of Intersection Technologies.
Bruce Weaver, President of Adam Systems adds "Partnering with F&I Express empowers our common dealers to focus on promoting aftermarket benefits rather than system input. This will equate to a more pleasant customer experience during the delivery process. We thank the F&I Express team of professionals for making this new project a success!"
The enhanced F&I Express functionality is free to all Adam Systems dealers. To activate the service the Adam Dealer should call F&I Express at 855.364.3977 or email AdamSystems(at)fandiexpress(dot)com.
ABOUT F&I EXPRESS
Intersection Technologies Inc. is a leading technology and solutions provider to the automotive F&I industry. Our F&I Express® eContracting network enables providers and agents to improve relationships with their dealer clients by improving the speed and quality of retail F&I processes. Our ExpressTabletSM iPad® mobility solution helps agents and field sales teams improve efficiency and increase dealer product penetration. Our ExpressRecoveriesSM program helps auto finance sources improve recoveries and compliance for ancillary product cancellations.
F&I Express® was voted by agents as the winner of the Agent Summit 2013 Provider Innovator of the Year award for its ExpressTablet iPad® solution for agents and providers.
ABOUT ADAM SYSTEMS
ADAM Systems is a leading provider of Dealer Management Systems (DMS) software and services to Automobile, Powersports and related retailers throughout the United States and Caribbean basin. ADAM Systems has a 30 plus year track record as a leader in innovative solutions targeted toward improving profitability, efficiency and customer service for dealers. ADAM Systems DMS solutions are easy to learn, easy to use, easy to maintain and less expensive to deploy than its' legacy competitors.
ADAM Systems has offices in Spanish Fort, Alabama and Atlanta, GA.