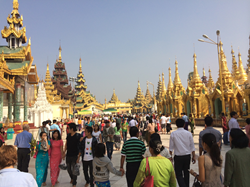 We are ready to grow with our clients and grow with Myanmar. We know the challenges are many, but we feel the potential is also immense
Nagoya, Japan (PRWEB) July 02, 2014
With growth rates expected to average between 7 and 9 percent at least until 2030, Myanmar offers ripe market conditions for companies involved in almost any sector, including ICT, city infrastructure and planning, hospitality, manufacturing, transportation, telecom, oil and gas and much more.
Sustainable Growth Attracts
After realizing both existing Japanese and international clients were headed to Myanmar and required services similar to what Nagoya based H&R Group (the parent company of Relo Japan) has covered for them since 1991, Steve and his team began research on how an expert relocation service in Myanmar might be achieved. His team met Myanmar native Ms. Zar through the spouse of one of Relo Japan's clients in Hiroshima and immediately found common ground on a vision for helping to streamline Myanmar's growth through support and care of its international community.
Many Factors Herald Future Growth for Myanmar
"With the largest land mass in Southeast Asia, the geography to function as a venue for trade and commerce with China, Thailand and India, less the one percent of the office space in Bangkok, a severely lacking supply of international standard hotels and 88% of the population without phone access, we, as well as our existing clients see huge growth potential here. Myanmar is one of the few remaining hot spots for sustainable market growth over the next 15-plus years," states Burson who now serves as Sales and Development Director of Myanmar Relo Solutions.
Myanmar Relo Solutions opened for business on July 1, 2014 and offers services including residential allocation support for both extended stay housing and serviced apartments, orientations and look-see programs that include tours of schools, expat neighborhoods and various shopping locations, settling in services including car / driver and maid introductions, departure services and anything the international community tells us they need. Without a doubt though, assistance with making timely payments to local vendors is one of the most needed services within any relocation program today in Yangon.
"It is our goal to bring the expertise we honed in Singapore and Japan to the international community in Myanmar. This is a very exciting time of growth and opportunity and we will do our best to support in every way we can," adds Burson.
Clients Require Flexible Response Support to Contingencies and Challenges
Since growth also requires flexibility and an open-minded approach, Myanmar Relo Solutions' implemented a special scope of optional service programs for those transferred to this exciting country. Optional services cover rental car arrangement, travel bookings, interpreting services, cross cultural/language training, arrangement for repairs, maintenance, electricians and much more.
"As the first expat-focused dedicated relocation company, Myanmar Relo Solutions will aim to keep a very open mind about how we respond to client needs. We are ready to grow with our clients and grow with Myanmar. We know the challenges are many, but we feel the potential is also immense," resolves Burson.