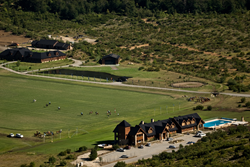 The Residence Club of Argentina will bring like-minded people, from polo fans to oenophiles and cultural adventurists, together in three of the friendliest, most exciting and beautiful destinations on the planet
(PRWEB) July 03, 2014
There are two kinds of polo enthusiasts -- those who have visited Argentina and those who dream of doing so. Either kind will be keenly interested in a new club that offers value-driven, worry-free real estate ownership and privileged access to some of South America's most compelling attractions, from polo to world-class skiing, private vineyards and one of the world's most vibrant cities.
Members of the newly launched Residence Club of Argentina (http://www.ResidenceClubOfArgentina.com) own and lodge in upscale accommodations in three of the country's prime destinations: Buenos Aires, Mendoza and San Carlos de Bariloche.
Additionally, Club members enjoy exclusive privileges at elite polo, golf and wine clubs.
"Our three locations are the U.S. equivalent of San Francisco, Napa Valley and Lake Tahoe," says Club developer Edward Rubio, who is also the U.S.-based owner/operator of Argentina's intimate and luxurious P Hotels. "Club members enjoy a minimum six weeks of incredible vacations each year at the Club locations, and they can send family, friends or clients to use part or all of that time."
The Residence Club of Argentina's executive director is Anthony Dias Blue, a James Beard Foundation Award-Winner and internationally recognized wine, food and travel expert. "Wine enthusiasts will revel in the beauty of Mendoza, outdoor enthusiasts will find paradise in Bariloche, and everyone will enjoy life-enriching experiences in Buenos Aires," says Blue. Polo fans will find ample opportunity to celebrate the Sport of Kings in each location: In Buenos Aires, P Hotels' new Palermo Tower is located in the trendy Palermo Hollywood district. The Club suites within the hotel are surrounded by world-class shopping, restaurants and nightlife. Just minutes way is the Campo Argentino de Polo—revered as the "Cathedral of Polo"— where members can witness the sport's most prestigious matches.
At the foot of the majestic Andes near Mendoza, the 28-suite Auberge du Vin nestles within a vineyard at Tupungato Winelands, the world's first-ever wine, golf and polo country club. The RCA suites are adjacent to the polo club's three fields and close to the Tupangato golf course. Polo, golf and wine club memberships are included with RCA membership. Completing the triumvirate is the Arelauquen Lodge in Bariloche, located just 15 minutes from Cerro Catedral, South America's largest and most famous ski resort (heli skiers depart directly from the Lodge). The Club suites afford breathtaking mountain views and overlook picturesque
Lake Gutierrez and Arelauquen Golf & Country Club, home of the region's finest golf course and polo club. RCA members are Arelauquen polo and golf members. RCA members share ownership of the Club suites within each of the P Hotels and enjoy
unlimited use of those suites, subject only to use by other members. The hotel staff takes care of all maintenance and other real estate responsibilities. RCA membership also serves as a passport to an international array of other luxury residence clubs through the Elite Alliance (http://www.theelitealliance.com).
"There is no other club like this in the world—especially at this value," says Blue. "The
Residence Club of Argentina will bring like-minded people, from polo fans to oenophiles and cultural adventurists, together in three of the friendliest, most exciting and beautiful destinations on the planet."
A limited number of Founders memberships are available at $49,500. To discover more about The Residence Club of Argentina, contact Rachel Mader at (435) 513-2164, or by mail at rachel(at)grupoemr(dot)com.