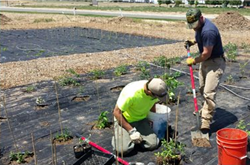 Kennewick, WA (PRWEB) July 02, 2014
Senske Services in Boise is partnering with the Blue Cross of Idaho Foundation for Health, Inc. in the foundation's Community Giving Garden project. The project is designed to grow produce and provide nutritious food for families in need.
The Blue Cross of Idaho has been maintaining The Giving Garden for two years. But this year, the garden became unmanageable. Volunteers say the weeds were growing out of control, the watering system was insufficient, and crops were not thriving. When Matt Costa of Senske Services heard about the garden, he gathered a team of Senske volunteers. Those workers logged more than 200 man hours to give the garden new life.
The foundation says that in just one month, volunteers and donations from Senske Services transformed the community garden. They got rid of weeds, transplanted crops, incorporated a new watering system, created a weed barrier and spread fertile mulch. Now the Blue Cross of Idaho Foundation for Health says the garden is on track to shatter last year's record of produce donated.
The Blue Cross of Idaho Foundation for Health recently wrote a letter to thank Senske Services for its help. "It is impressive to see a company that is able to move and make changes so quickly, but also garner the support of an army of volunteers to start projects. It is a demonstration of Senske Services' dedication to Idaho," says Kendra Witt-Doyle, Manager of the Blue Cross of Idaho Foundation for Health.
About Senske Services
Senske Services, Inc. is a leading lawn, tree and pest control service provider that is locally owned and operated, with its corporate office based in Kennewick, Washington. It has been a trusted source of lawn, tree and pest control services for more than 65 years across Eastern Washington, Idaho, and Utah, as well as pest control in Las Vegas, Nevada. To see what Senske Services can do for you, visit http://www.senske.com.