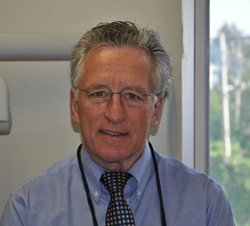 Quincy, MA (PRWEB) July 02, 2014
Dr. Thomas Mone is expanding his practice and now offers Quincy, MA residents an exciting new technique to treat gum recession called the Pinhole Surgical Technique (PST™). With no incisions and only a tiny hole to allow access with special tools to lift and extend the gum tissue over the area of receding gums, the PST™ that Quincy residents can now benefit from is quick and effective. The minimally invasive procedure is known for rapid recovery time and only very mild discomfort during the process.
Without the cutting and removing of healthy tissue that is typical of gum grafting procedures for treatment of receding gums, the revolutionary new PST™ treatment for gum recession can be completed in a few simple office visits. Improvement in the look of the receding gums is immediate. Patients and others immediately notice the improvements in the gum line after the process, and multiple teeth can be treated at each session.
The causes of gum recession for Quincy patients can include poor brushing technique, using the wrong kind of toothbrush, or a side effect of certain medications or health conditions. Whatever the reasons, receding gums are unsightly and unhealthy. Beyond the aesthetic issues of gum recession, the condition can advance if left untreated, leading to further recession, loose teeth, and bone loss eventually. Many people put off treatment for gum recession out of fear of invasive procedures that involve cutting and stitching and even grafting of gum tissue which are the traditional methods to treat receding gums.
With the PST™ applied by Dr. Mone for treatment of gum recession, Quincy patients report only slight discomfort and little to no bleeding with the procedure. With immediate improvements in the appearance of the receding gums, the patient is able to see the difference upon completion of the treatment.
Learn more about advanced treatments for gum recession offered at Mone Periodontics for Quincy residents. Patients do not need to live with the unpleasant appearance and health risks of receding gums, as the new technique practiced by Dr. Mone is minimally invasive and heals rapidly. Visit them on the web at http://www.braintreeperio.com and call (781) 348-9925.
About the Doctor
Mone Periodontics is a periodontal practice offering personalized dental care for patients in Braintree, MA. The leading periodontist at the practice, Dr. Thomas Mone, graduated from the University of Massachusetts with a bachelor's degree, and then went on to attend the University Of Pennsylvania School Of Dental Medicine and graduated at the top of his class. He completed his periodontal training at Boston University Goldman School of Graduate Dentistry. Dr. Mone is part of one percent of dental professionals providing the LANAP® protocol, an FDA cleared laser procedure for gum disease and periodontal treatment. To learn more about Mone Periodontics and their dental services visit their website at http://www.braintreeperio.com and call (781) 348-9925.