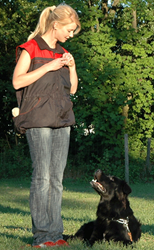 "What a great experience it is to have everyone cheering you and your dog on as you master obedience techniques." -Joette White, President of Park Cities Pet Sitter
Dallas, TX (PRWEB) July 02, 2014
Park Cities Pet Sitter is offering a 5-week Beginning Level Group Dog Training class starting Monday, July 4th at 6:30pm at Cole Park in Dallas. Cole Park is an outdoor multi-use park located at 4000 Cole Avenue. The classes will run for five consecutive weeks, with a maximum of eight dogs allowed in the class. Cost for the class is $135.
The Beginning Level class is open to owners who want to improve their relationship with their dog, would like to learn the proper ways of teaching their dog basic obedience commands, and for those who may want to address minor behavior issues like jumping or chewing on inappropriate items. It can also be used for dogs and owners who may have taken a dog obedience class in the past, but would like a refresher of the best practices. Over the course of the five one-hour long sessions, the instructor will cover topics such as loose leash walking, common dog behavior problems, and the sit, stay, down, and come commands—-all through demonstration and practice.
Park Cities Pet Sitter President, Joette White, offers Group Dog Training classes for varying skill levels throughout the year so that dogs can get out and socialize with other dogs and their owners in a positive, safe environment. "Many dog owners wish their dogs always acted perfectly, both in their home and out in public. That is not necessarily a realistic expectation, but it is one of the many reasons a Group Dog Training class is so effective," said Ms. White. "Attendees of our Group Dog Training classes regularly comment on the camaraderie that develops, and what a great experience it is to have everyone cheering you and your dog on as you master obedience techniques. Everyone benefits when they realize most other dog owners are struggling with some of the same issues, and that there are supportive environments like our Group Dog Training classes that allow you to practice the human skills of being an effective and assertive pack leader for your dog."
Park Cities Pet Sitter's Beginning Level Group Dog Training class will be taught by trainer, Agatha Weisz, CPDT-KA. Ms. Weisz has extensive group class training experience, and is also an AKC Canine Good Citizen evaluator. As with all of Park Cities Pet Sitter's trainers, Ms. Weisz teaches using positive reinforcement techniques.
Park Cities Pet Sitter, Inc. has served the Dallas area 7 days a week, 365 days a year since 1992. Pet sitting, daily dog walks, pet taxis, overnight sitting, pet supply shopping, litter box cleaning and dog training are all part of the services PCPSI offers. Park Cities Pet Sitter is bonded and insured, and all sitters are employees--not independent contractors. A manager is on-call 24 hours a day to handle any emergencies. Additional information about Park Cities Pet Sitter can be found on their website at http://www.pcpsi.com.