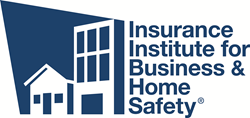 Tampa, FL (PRWEB) July 02, 2014
Building science experts from the Insurance Institute for Business & Home Safety (IBHS) are available to speak with media about Tropical Storm Arthur, which is expected to be upgraded to a hurricane soon. Experts can provide specific recommendations about how property owners can prepare for and recover from this storm.
IBHS' resources help home and business owners prepare their property before hurricanes hit, which helps reduce damage and losses. Through field research and full-scale testing conducted at the world-class IBHS Research Center, scientists have identified valuable property protection techniques, many of which are relatively simple and cost-effective when measured against the return on investment. IBHS' free hurricane resources provide comprehensive guidance on reducing property damage before a storm hits, and direction for repairing, rebuilding and recovery following a storm.
Available Experts

Julie Rochman, President and CEO
Dr. Timothy Reinhold, Senior Vice President of Research and Chief Engineer
Chuck Miccolis, Senior Engineering Manager, Commercial Lines (commercial structures)
Gail Moraton, Business Resiliency Manager
To arrange an interview with an IBHS building science expert, please contact Tiffany O'Shea at (512) 636-7811 or toshea(at)ibhs(dot)org.
IBHS is a leading national expert on preparing for, and repairing and rebuilding structures after a catastrophe to make them more disaster-resistant and make communities more resilient. Visit DisasterSafety.org for more information about how to make your buildings more resistant to a variety of disasters, large and small. Follow IBHS on Twitter at @DisasterSafety and on Facebook.
Examples of IBHS Hurricane Resources:

Videos:

IBHS Research Center Testing Demonstration Highlights (short videos of the testing demonstrations IBHS has done): http://vimeo.com/86643217
FORTIFIED Homes: Stronger, Safer from the Start (video explaining the benefits of strengthening your home against high winds): http://vimeo.com/16177124
IBHS' Wind-Driven Rain Testing Demonstration (showing why roofs should be sealed): http://vimeo.com/28068692
Ed. Note: Hi-definition video of testing conducted at the IBHS Research Center is available for use by the media. To obtain a video file, please contact Tiffany O'Shea.
# # #
IBHS is an independent, nonprofit, scientific research and communications organization supported by the property insurance industry. The organization works to reduce the social and economic effects of natural disasters and other risks on residential and commercial property by conducting building science research and advocating improved construction, maintenance and preparedness practices.