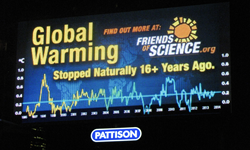 Global warming stopped naturally 16+ years ago – are you sure it isn't time for a colorful metaphor?
Calgary, Alberta, Canada (PRWEB) July 03, 2014
As reported by Global TV news on June 3, 2014, Parade Marshall William Shatner, famously known as Captain Kirk of Star Trek, beams in to lead the world famous Calgary Stampede parade, Friends of Science are pleased to announce the release of their Vulcan themed "DeConsensus Project"- a cosmic perspective Prezi-style power point that reviews the logic behind the alleged 97% consensus on global warming and human-caused climate change. This light-hearted take on a serious topic is a corollary to Friends of Science report released earlier this year entitled "97% Consensus? NO! Global Warming Math Myths and Social Proofs."
"One of the most common, recurring arguments for agreeing with the theory of Anthropogenic Global Warming is that '97% of all scientists agree'," says Ken Gregory, research director for Friends of Science. "Our research reveals that this claim is nothing more than a social proof – and 'consensus' is not a logical way to assess a scientific matter. Most scientists believe that human activity has some effect on climate, but many do not believe that greenhouse gas emissions are dangerous. 20th century warming was very beneficial."
The DeConsensus Project features a caricature of a well-known Vulcan, logically working his way through the evidence on Anthropogenic Global Warming.
"Global warming stopped naturally 16+ years ago – are you sure it isn't time for a colorful metaphor?" adds Gregory, echoing a well-known Vulcan quote.
According to Friends of Science, it's just a cosmic coincidence that the project's release occurs in the same time matrix as Captain Kirk's arrival on horseback.
As reported in the Huffington Post June 6, 2014, Friends of Science gained notoriety when Greenpeace objected to the Friends of Science digital billboard "The Sun is the main driver of climate change. Not you. Not CO2." More recently, as reported in the June 27, 2014 edition of the Globe and Mail, Friends of Science digital boards reflect a new message "Global warming stopped naturally 16+ Years Ago."
"Climate science is a complex topic," says Gregory. "Our website offers a collection of commentaries as well as peer-reviewed literature, organized by topic and technical difficulty. We hope The DeConsensus Project will help people gain some insights into climate science and make their own decisions."
Friends of Science agree that carbon dioxide (CO2) and human activity impact climate, but that natural factors like solar cycles, changing ocean currents, and atmospheric cycles are more influential. Friends of Science agree that weather events and climate cycles can have damaging impacts on people and infrastructure, but say that the 20th century warming has not resulted in more severe weather, as echoed by atmospheric scientist Judith Curry in her Jan. 16, 2014 testimony and that of Roger Pielke, Jr. in his July 18, 2013 testimony to the US Senate. As these experts report, storms, tornadoes and droughts have become less severe and hurricane activity has declined significantly since 1998.
"The severity of these naturally occurring events cannot be changed by carbon taxes or human actions," says Gregory. "Humans have successfully adapted to climate change."
Gregory points out that insulated houses, central heating and air conditioning – have all been an adaptation and allowed humankind to thrive despite weather conditions.
"Human beings will continue to innovate," says Gregory. "We should be prepared for global cooling as predicted by solar cycles. There's no 97% consensus. They're fooling you."
NEW: See Friends of Science on Tumblr :http://friendsofsciencecalgary.tumblr.com/
About
Friends of Science have spent a decade reviewing a broad spectrum of literature on climate change and have concluded the sun is the main driver of climate change, not carbon dioxide (CO2). The core group of the Friends of Science is made up of retired earth and atmospheric scientists.
Contact:
Friends of Science Society
P.O.Box 23167, Mission P.O.
Calgary, Alberta
Canada T2S 3B1
Toll-free Telephone: 1-888-789-9597
Web: friendsofscience.org
E-mail: contact(at)friendsofscience.org