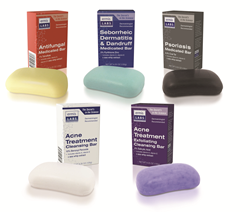 Bars (as a form of delivery) have been seeing a resurgence over washes because they last longer and present a better value
Annapolis, Maryland (PRWEB) August 06, 2014
With the success of its popular Benzoyl Peroxide Medicated Bar, the team at Ermis Labs has come up with four new formulations to help treat skin conditions.
They include a 2% Pyrithione Zinc Seborrheic Dermatitis & Dandruff Treatment Bar, a 2% Salicylic Acne Treatment Exfoliating Cleansing Bar, a 1% Tolnaftate / 9% Sulfur Antifungal Medicated Bar, a 0.5% Coal Tar Psoriasis Medicated Bar and their 10% Benzoyl Peroxide Acne Treatment Cleansing Bar.
These medicated bars will be available to the public through healthcare providers and independent pharmacies across the United State. The bars can only be purchased by a licensed healthcare provider: doctors, physician assistants, nurse practitioners, registered nurses and pharmacists.
All five bars will be on display at the upcoming American Academy of Dermatology Summer meeting in Chicago on August 8th and 9th, 2014. The Ermis Labs team will be happy to answer any questions you have about the bars and how to purchase them; please visit them at booth 1810.
About Ermis Labs:
Ermis Labs is a Medicated Skin Care Company focused on providing over-the-counter (OTC) products that are safe, effective, well-tolerated and affordable. Their focus on high-quality ingredients partnered with professional counsel from dermatologists, plastic surgeons and pharmacists has resulted in high-quality Medicated Skin Care products.