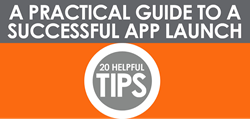 Marceline, MO (PRWEB) July 08, 2014
Walsworth announced today that it has begun distribution of its new app marketing manual, "A Practical Guide to a Successful App Launch: 20 Helpful Tips," which is now available for PDF download at the Walsworth website.
"A Practical Guide to a Successful App Launch: 20 Helpful Tips" guides the user through the entire app launch process. It has step-by-step directions for the pre-launch, launch and post-launch phases of bringing a new publishing app to market for magazine, catalog and book customers.
The guide also includes information on the types of apps on the market, their wide array of specialized features and a strategy to help companies choose the app that best fits their audience.
"We've enjoyed success with our app publishing solutions, and now we get the chance to share the knowledge we've acquired with our customers," said Don Walsworth, president of Walsworth. "We believe this manual is a great resource and provides an easy-to-follow marketing plan to those interested in launching their own app."
Walsworth first announced its entry into app publishing last year, with the launch of the new walsworth.com in September 2013. Since then, the company has been cultivating its successful app business and learning the tips for its new guide. Additional areas covered include:

How to set goals and measure success
Creating a killer app description
Gathering supporters and fans
Pinpointing opportunities for generating buzz
Using your website and social media for app promotion
About Walsworth
Walsworth is among the 35 largest printing companies in the U.S. and top 10 book printers. The company is also the only American- and family-owned publisher of yearbooks. Started in 1937 by Don Walsworth, current leadership is under the second and third generations: Don O. Walsworth, CEO, and his son, Don Walsworth, president. The company, which began printing yearbooks in 1947, operates from administrative offices and printing and binding facilities in Marceline, Mo., a prepress facility in Brookfield, Mo., a sales and marketing office in Overland Park, Kan., and a printing facility in Saint Joseph, Mich. Additionally, Walsworth owns the Donning Company Publishers in Virginia Beach, Va., a specialty book publisher, and The Ovid Bell Press in Fulton, Mo., a printer of journals and magazines.