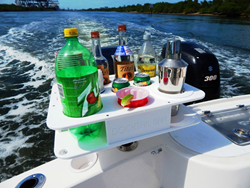 Simply a better way to 'cocktail' on the water!
Fort Lauderdale, FL (PRWEB) July 08, 2014
Serving drinks on a rocking boat has always proved difficult for boaters, and while boats are usually outfitted with multiple cup holders, Steve Fill, President of Reel Adrenaline® Energy Drinks, believed there should be an easier, more stylish and more comprehensive beverage management solution for cruising the waters. "We noticed the marketplace lacked a boating accessory that allowed friends to enjoy a beverage on a boat in a functional, organized manner. Serving drinks in wind and negotiating waves is challenging enough, so who wouldn't appreciate a product that looks great and reduces spillage, slippage, mess and hassle? Each Docktail™ Bar holds standard-sized bottles, has 5 inserts that make personalized bar configurations possible and is compatible with multiple mounting options making the Docktail™ Bar the perfect solution to hassle free beverage service on boats of all sizes."
Prior to the Docktail™ Bar, there has not been a well-thought out system for facilitating cocktail hour on a boat. Boaters usually managed to pour drinks one way or another by reaching into buckets, hatches, coolers and fishing around for bottles, cups and mixers, but it was always awkward and difficult. The Docktail™ Bar attractively presents bottles, cups and mixers in a way they can be accessed quickly and conveniently.
The Docktail™ Bar is available in 2 options to accommodate individual budgets and preferences: Docktail™ Semi Custom Bar and the Docktail™ Fully Custom Bar. Each product can be customized with 5 different inserts to make that family getaway or social gathering more fun and enjoyable. Four bottle sizing inserts can reliably accommodate most bottles and cans from 1.75 Liter handles to basic red plastic party cups down to 8.4 oz. energy drinks. A separate insert sports a practical cutting board for dicing lemons, limes and any other cocktail garnishes. Two knife holders sit atop the bar while beneath are two more accessory slots to hang bottle openers, clip a towel or whatever else will enhance your Docktail™ hour.
The Docktail™ Bar is easy to clean, durable and folds flat for easy storage. Made of StarBoard®, a weather-resistant durable polymer material and fastened with stainless steel hardware, the Docktail™ Bar can be installed using multiple mounting options including a rod holder, stainless steel rail mounts, suction cups, etc. Tailor a custom bar set-up or rely on the Docktail™ Bar team to offer recommendations and demonstrate installation and functionality.
No longer will boaters have to dig around for a favorite spirit or a correct mixer; the Docktail™ Bar acts literally as an "open bar" - right at one's fingertips. In short, the Docktail™ Bar is simply a better way to "cocktail" on the water.