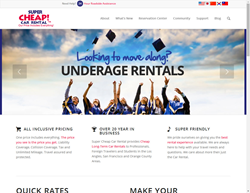 We've always done our best to cater to the needs of our clients, both on and off the road.
Los Angeles, CA (PRWEB) July 07, 2014
Super Cheap Car Rental, one of Southern California's top independent car rental providers, launched their redesigned website this morning, unveiling a look that's completely responsive. Built with help from Express Internet Marketing, the new design makes reserving a vehicle quick, easy and efficient, regardless of what device you're using.
"The motivation behind this redesign was ease-of-use," explained Super Cheap Car Rental President, Daniel Barker. "We'd been noticing that more and more of our users were reserving vehicles using smartphones and tablets. A responsive web design ensures that these users enjoy a seamless booking experience, no matter what device they're using."
As with previous versions of the website, the new Super Cheap Car Rental site has been localized into multiple languages, including Japanese, Chinese and Korean. "We've always done our best to cater to the needs of our clients, both on and off the road," explained Daniel. "It's little things, like the language localization, that enables us to provide our customers with a hassle-free rental experience."
While the site provides customers with tons of new content and features, Daniel insists that nothing has changed concerning the company's commitment to all-inclusive pricing. "The price you're quoted is the price you pay, guaranteed. No hidden fees, no additional charges, nothing."
Super Cheap has built their reputation by upholding this all-inclusive pricing promise, always including liability coverage, collision coverage, taxes and unlimited mileage in their online quote. What's more, Super Cheap does not charge any additional fee to renters who are between the ages of 21 and 24 (also known as the "underage" rental demographic). While other companies charge upwards of $25 a day to this customer group, Super Cheap maintains a no-fee promise, provided the customer has a valid drivers license.
Longtime clients and prospective customers are encouraged to visit the new website at http://www.supercheapcar.com. With three locations in Southern California, Super Cheap Car Rental is proud to be your preferred rental partner.
About Super Cheap Car Rental
Super Cheap Car Rental provides cheap, long-term car rentals to professionals, foreign travelers and students in the Los Angeles, San Francisco and Orange County areas. Focusing on weekly and monthly rentals, Super Cheap is able to undercut the competition and provide the lowest priced long-term car rental in Southern California. Home to the all-inclusive pricing promise. Visit http://www.supercheapcar.com for more information.