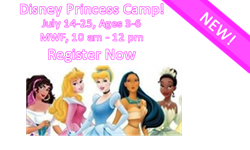 My dancers grow up to be confident, talented young ladies!
Newtown, PA (PRWEB) July 29, 2014
Bring the little ones to Debra Sparks Dance Works in July and join the grand Disney Princess Party. From July 14 to 25, on Monday, Wednesday, and Friday mornings for two hours beginning at 10 am, the studio will devote its summer dance enrichment camp exclusively to Disney Princesses! Your little ballerina will enjoy the red-carpet treatment, including:

Princess Costumes
Princess Crafts
Princess Treats
Princess Surprises
This special Disney camp is the first of its kind in Bucks County. Only at Debra Sparks Dance Works for two special weeks in July, these little dancers will feel like they woke up in the Magic Kingdom! Adorned in frilly princess tutus, royal crowns, and shimmering wands that make dreams come true, this summer camp is sure to bedazzle these little ballerinas with the beauty, charm, and mystic dancing powers of their favorite Disney princesses. It's great Princess Party fun while these young dancers take gentle ballerina steps. A perfect camp for those who want a creative and nurturing environment in a dance studio that brings magic to your dancers.
Register Today—Classes Filling Quickly!
About the Studio
When it comes to the best Bucks County dance studio instruction, there's no better mentor than Ms. Debra Sparks. She raises the "barre" with her high standards and nurturing approach to produce the finest of dancers.
Learn More
Throughout the year, Debra Sparks Dance Works hosts a variety of events, including Master classes with guest choreographers from New York, Philadelphia, and Los Angeles. Check out the DSDW dance school video!
Debra Sparks Dance Works offers year-round dance classes, focusing on classical ballet as the primary foundation of training. Classes offered for students of all ages, including dance classes for toddlers (age 2+) to adult:
Acro
Ballet—Classical
Ballet—Contemporary
Ballet—Pointe
Dance Classes for Toddlers
Glee Club
Hip Hop
Jazz
Jazz—Competitive
Jazz—Funk
Jump & Turn
Lyrical
Modern
Musical Theatre
Pilates
Tap
Zumba
For more information about Debra Sparks, the DSDW studio, Master classes, Newtown, Bucks County dance classes, the area's best ballet and dance training, dance classes for toddlers, or for answers to general questions, please call the studio at (215) 579-5678.
Or visit the company's website.
Press release writing by WebSiteText | SEO copywriting by Web Copywriters | Proofreading by The Proofreaders.