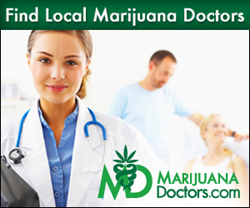 (PRWEB) July 08, 2014
Critically-acclaimed as the country's "Zoc Doc of pot," MarijuanaDoctors.com is proud to acknowledge New York for officially becoming the country's 23rd medical marijuana state. According to an article posted by Lorenzo Ferrigno of CNN on July 8th, the Governor's signature being carefully scripted on Assembly Bill 6357 marks a significant date in history where the Empire State became part of a unique group of states that recognize the substantial benefits of marijuana as an effective medicine.
New York patients that are looking to consult with a physician on the benefits of medical marijuana are advised to go over to the MarijuanaDoctors' webpage, take the time to register to the patient wait list for New York and then become enlightened on all there is to know about New York's medical marijuana laws. From the legalities surrounding this treatment option, to a brief detailing of Assembly Bill 6357's legislative language, MarijuanaDoctors.com has everything a patient looking to obtain a medical marijuana certification could want.
In order to qualify for medical marijuana in New York, patients must possess one of about twelve different medical conditions that degrade one's quality of life in order to obtain a New York medical marijuana card.
Patients suffering from conditions such as cancer, a positive status of HIV/AIDS, ALS, Parkinson's disease, multiple sclerosis, spinal cord damage causing spasticity, epilepsy, inflammatory bowel disease, neuropathic pain, or Huntington's disease are urged to register on the MarijuanaDoctors patient wait list to be informed of when a doctor servicing New York has become part of our network.
Helping legitimize the country's medical marijuana industry one state at a time, MarijuanaDoctors will continue to efficiently direct patients to a reputable, alternative healthcare physician. The company will also continue to work around the clock in helping canna businesses effectively solve the primary goal of assimilating cannabis to a Schedule II drug through innovative titration tracking software.
Patients in New York looking to take part in utilizing an alternative treatment are recommended to check out MarijuanaDoctors.com and and learn a little about medical marijuana and how it could provide relief for a debilitating ailment.