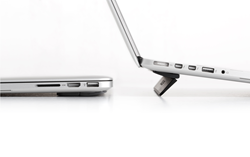 Kickflip elevates the MacBook Pro to such a perfect angle, users will never want to work flat again.
Pasadena, CA (PRWEB) July 15, 2014
Taking laptops to the next level, today Bluelounge proudly announces its new MacBook Pro laptop stand, Kickflip. Kickflip is a stand that elevates laptops at an ergonomic angle, making it easier and more comfortable to work.
"Once you work from an elevated position, you won't be able to work flat again," said Dominic Symons, Creative Director and Founder of Bluelounge. "It just seems unnatural – and while we live at our laptops – it just makes sense to keep it as comfortable and natural as possible."
Specifically designed for the MacBook Pro, Kickflip comes in two sizes for 13" and 15" laptops and stays affixed to the underside of the laptop using a high-tech German engineered and manufactured gel adhesive. The adhesive is formulated to form a strong bond with the laptop to hold firm yet removes without leaving a residue and can be used over again by simply cleaning the gel adhesive strip with soap and water.
Remarkably thin and extraordinarily handy, Kickflip adds no bulk to your MacBook Pro. Kickflip integrates seamlessly providing a lift when needed, while remaining incredibly inconspicuous when not in use.
Kickflip is available at a suggested retail price of $17.95 and $19.95. Bluelounge products are currently available online and at select retailers worldwide. To find a retailer nearby, please visit our store locator.
For more information on Kickflip, visit http://www.bluelounge.com/products/kickflip/.
Follow Bluelounge on Twitter at twitter.com/bluelounge and on Facebook at facebook.com/bluelounge for the latest news on all Bluelounge products.
About Bluelounge
Bluelounge is an award-winning, international design studio known for its clever products that solve everyday problems through design.
Each product is designed to provide an effortless solution that stands the test of time and integrates into your life so seamlessly, you can't remember living without it.
Under the creative direction of Dominic Symons, the Bluelounge team is a vibrant collective that champions ingenuity and embraces creativity to fuel innovation.
Bluelounge is headquartered in Singapore, with studios in Jakarta, Indonesia and Pasadena, California.
# # #
Note to reporters: High-res images are available here: http://www.bluelounge.com/media.
Media Contact:
Kaitlin McIntyre Hawk
Bluelounge
P | 626.564.2802 ext. 706
kaitlin(at)bluelounge(dot)com