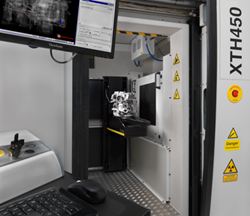 Cincinnati, Ohio (PRWEB) July 10, 2014
3D Engineering Solutions (3DES), an advanced design engineering and metrology services company in Cincinnati, Ohio is pleased to announce their strategic partnership with Nikon Metrology, Inc (NMI) of Brighton, Michigan. 3DES recently purchased two state of the art industrial computed tomography (CT) systems from NMI. These systems use X-rays to penetrate components and assemblies to retrieve all surface and internal details.
3DES' new metrology grade industrial CT scanning systems have led to an expanded 30,000 square foot controlled state-of-the-art laboratory featuring leading edge touch-less data collection, inspection and engineering systems. The addition of the metrology grade CT scanners creates a dynamic new capability.
Industrial CT scanning engineering overcomes line of sight restrictions and data collection issues experienced with touch probe, laser, vision and structured light based systems. 3DES VP of Operations, Rob Glassburn, P.E., explains, "This technology allows us to surface map and inspect internal passages of customer parts that require a non-destructive evaluation of their critical components. Markets from aerospace, medical, automotive and historical preservation can benefit from this advanced CT technology by utilizing 3DES' services without the burden of expensive capital investments and maintaining engineers proficient in their use. 3DES will break down the paradigm that precision industrial scanning is expensive and time consuming. Our services will provide ISO 17025 quality combined with excellent turn around for our services utilizing 24/7 customer support."
Valued at over $2 million, this 3DES project creates a state-of-the-art industrial CT scanning Center of Excellence. This strategic partnership with Nikon Metrology uniquely qualifies 3DES as the leading engineering and metrology lab in the United States, with its advanced suite of leading edge CT scanning hardware, advanced reconstruction and analysis software and team of degreed engineers professionally trained in all aspects of the use and proficient application of 3D voxel model data acquisition and point cloud engineering.
Nikon Metrology VP of Strategic Marketing, Jim Clark explains, "Industrial X-ray/CT has long been a tool used in the Quality and Failure Analysis lab, but advances in speed, techniques and standards mean that it is now a tool that can replace several pieces of existing measurement and metrology equipment and provide superior results both quicker and without the need to cut or destroy the part."
"Nikon Metrology is excited to have partnered with 3D Engineering Solutions," notes Clark. "3DES is geographically well positioned in the Midwest to support the growing demand for advanced CT scanning services. Additionally it provides Nikon Metrology with a base for demonstrating and educating key customers and industries as to the benefits of industrial CT."
With the rapid growth of additive manufacturing (3D printing) in the aerospace industry requiring jet engine manufacturers to better understand the critical nature of the internal passages of the components they are producing, Nikon and 3DES's new 450kV micro focus CT scanning system allows for significant improvements in inspecting critical components such as turbines, nozzles and blades. This new strategic partnership with 3DES and Nikon Metrology allows this niche industry of advanced CT scanning of critical aerospace components to be supported on a 24/7 basis that no other engineering services company is currently offering.
3DES president, James T. Irwin, shares, "In the world of metrology and non-destructive engineering/testing (NDE/NDT inspections), this is game-changing technology. From a single CT scan of a fine watch, we can measure and 3D-model each internal component.
Our new Nikon MCT225 and XTH450 CT scanner systems are best-in-class and offer a broad and complex range of inspection capability. With the speed, accuracy and capacity of these systems, we are prepared to exponentially increase our services business."
About 3D Engineering Solutions:
3D Engineering Solutions is registered with the State of Ohio for Professional Engineering and is ISO 17025 certified for third party inspection. The company maintains a state-of-the-art, climate controlled metrology lab, servicing OEM needs for FAI / PPAP inspection and more, including an industrial CT scanning lab, 3D laser scanning, data collection, 3D CAD modeling, reverse engineering, and long range laser scanning for BIM services. Customers rely on 3D Engineering Solutions to design process tooling and fixtures for the automotive, industrial, green energy, nuclear and aerospace industries, using engineering tools such as Siemens advanced NX7.5 Mach 3 CAD platform. Leading edge point cloud software, InnovMetric PolyWorks, allows a common software platform for collecting data across all of Faro laser-based data collection platforms. 3D Engineering Solutions brings more than 100 years of collective experience to every engineering project. For more information about long range laser scanning, or for general information about 3D Engineering Solutions, call 513-771-7710 or visit the company's website: http://www.3D-engineering.net.