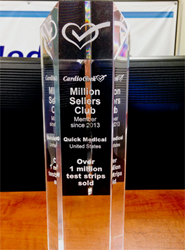 Issaquah, WA (PRWEB) July 16, 2014
During QuickMedical's 11 year partnership with Chek Diagnostics, formerly PTS, over one million CardioChek test strips have been ordered by QuickMedical customers. The milestone was attained last year and verified during a recent audit at Chek Diagnostics. Chek Diagnostics is the trusted manufacturer of the Cardio Chek system of medical diagnostic equipment, as well as the A1C+Now A1c testing system.
Recipients of the 1 million test strip honor will be publicly honored at the next worldwide Chek Diagnostics distributor meeting.
About Chek Diagnostics:
Formerly known as Polymer Technology Systems, Inc., Chek Diagnostics is a global provider of point-of-care diagnostic products to the healthcare industry. Headquartered in Indianapolis, Indiana, Chek Diagnostics designs, manufactures, and markets products for distribution in over 120 countries around the world. The company has sales offices in Europe, Latin America, and the Pacific Rim. Its products include the CardioChek family of blood testing products and the A1cNow+ A1c testing system.
About QuickMedical:
QuickMedical is a leader in the distribution and sale of medical equipment and supplies. With great pricing, same day shipping, and a best price guarantee, QuickMedical has the professional medical equipment used by medical and healthcare professionals in their facilities everyday. In 2013 QuickMedical expanded services to include QuickMedical GS as a full division of QuickMedical. Now, federal government customers can order any of over 12,000 items on our FSS/GSA contracts directly from QuickMedical Government Sales.