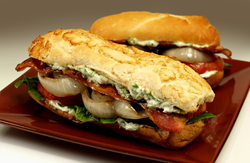 This summer, I'll get to rub elbows with some of the best chefs in the country who just happen to think that Walla Walla Sweet Onions are as unique and delicious as I do. I'll be sharing their recipes with the viewers of my "Dining with Dills" TV Show.
Los Angeles, CA (PRWEB) July 31, 2014
When does a renowned culinary reviewer take off his critic's hat and join with chefs to cook up something original using a familiar vegetable found in everyone's refrigerator? When that familiar vegetable, an onion, is not like most onions at all, but instead an onion so sweet, juicy and mild it doesn't even make your eyes water – a Walla Walla River Sweet Onion.
During Walla Walla Sweet Onion Season, ammature and seasoned chefs alike put on their creative hats and have fun making foods better with America's Original Sweet Onion. And now through September, Peter Dills will be sponsoring cooking and tasting events in grocery stores and local restaurants and sharing how a host of prominent chefs create delicious signature dishes using Walla Wallas. He'll be promoting these Walla Walla events and broadcasting his interviews on his TV and Radio shows.
Says Peter, "Walla Walla Sweet Onions are only grown in the Walla Walla Valley in Washington state, just north of the Oregon border. Because the volcanic soil there is low in sulfur compounds - the compounds that give ordinary onions their eye-watering pungency - they are unusually sweet, juicy and mild. Of course, selective breeding of the original onion seeds brought to the valley all the way from island of Corsica by a French soldier in the late 19th century also has something to do with their unique flavor."
Many Walla Walla enhanced recipes will be shared with consumers over the course of the summer. These will include the favorite grilled "Walla Walla BOLT" sandwich of Safeway Executive Chef, Jeff Anderson, and three original Walla Walla recipes that Chef Sam Elias of popular "Sam's By The Beach" shared with Peter during his recent on-location video interview in Santa Monica.
In the meantime, here is Executive Chef Jeff Anderson's recipe for the "Walla Walla BOLT!"
Grilled Walla Walla Sweet Onion, Applewood Smoked Bacon, Romaine, and Heirloom Tomato Sandwich
Ingredients for 4 BOLTs:

4 Walla Walla Sweet Onion Steaks, sliced approx. 1" thick, for each
8 slices of cooked Applewood Bacon
4 Fresh Baked Rolls; e.g., Onion, Sourdough
6 Tbs. Arugula Mayonnaise
4 Spears of Romaine Hearts
4 thick cut slices of Heirloom Tomatoes for each
Extra Virgin Olive Oil
Pinch of Kosher Salt
Pinch of Fresh Ground Black Pepper
Preparation
Arugula Mayonnaise:

2 Cups loose packed Baby Arugula
½ cup Mayonnaise
Juice of 1 Lemon
Pinch of Salt and Pepper
Combine ingredients in food processor and blend smooth. Reserve for use.
Sandwich:
Heat gas or wood fired grill to a medium heat. Dress onion steaks with olive oil, salt, and pepper, and grill until cooked and tender. Toast split rolls on grill.
Dress rolls (top and bottom) with 1 1/2 Tbs. of Arugula Mayonnaise. Place romaine spear on bottom of roll and layer with grilled onions, bacon, and tomatoes. Season with pinch of salt and pepper. Add roll top and press slightly to "mash" the flavors. Your BOLT is now ready!
If you would like to attend any of the upcoming restaurant and store events with Peter Dills and Walla Walla Sweet Onions at center stage, check out Peter's website and Facebook page for all the latest updates.
Walla Walla Certified Sweet and Certified Extra Sweet Onions are marketed by a partnership between Keystone Fruit Marketing, Inc. and Progressive Produce of Los Angeles, California, working together to bring the finest fresh produce to the public.