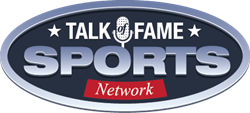 "There's no place like the huddle to understand what's going on in a game. These three guys are in the Hall of Fame huddle," said Jerry Jones, owner, president and general manager of the Dallas Cowboys.
Phoenix, AZ (PRWEB) July 09, 2014
Skyview Networks and Three, Two, One LLC announce today their partnership for a nationally syndicated football talk show: "Talk of Fame Sports Network," hosted by longtime NFL writers and Pro Football Hall of Fame committee members Clark Judge, Rick Gosselin and Ron Borges. The Pro Football Hall of Fame is an exclusive panel of 46 members, so these three hosts can do what nobody else has, which is to pull back the curtain on a process that is secretive and often misunderstood. Airing on a network of Skyview affiliates, the show debuts August 1, 2014 on 65 radio stations. With current and former players and coaches, listener interaction and lively debate, the show will ultimately provide football commentary from the Hall of Fame point of view.
"There's no place like the huddle to understand what's going on in a game. These three guys are in the Hall of Fame huddle," said Jerry Jones, owner, president and general manager of the Dallas Cowboys.
"Talk of Fame Sports Network" will provide its stations and listeners with true insider information on the Pro Football Hall of Fame selection process, potential candidates and what it takes to make it. The show features high-profile coaches and players from the past and present.
"Skyview is proud to bring such an exclusive, interesting perspective to football talk radio with these industry experts as hosts," said Ken Thiele, president of Skyview Networks. "With Skyview's broadcast technology foundation, progressing further into syndication is a natural avenue for us to pursue. We look forward to the successful launch of the show and continued network growth."
With over 100 years combined covering the National Football League and over 40 years combined serving the Pro Football Hall of Fame, Judge, Gosselin and Borges bring the deep knowledge and context to football talk radio. These experts have insider information to share: with lively debate and esteemed guests, they will inform listeners exactly why (or why not) their favorite players will make it into the Hall.
"Rick, Ron and I have the experience and the knowledge to tell people what others cannot--namely, what makes a Hall of Famer and who is on the short list. So what? So there is no shortage of people who can tell you who should or should not be in the Hall, but there are precious few who can tell you why," said Clark Judge, host of Talk of Fame Sports Network. "Now, there's a two-hour show that will, thanks to a unique partnership with Skyview Networks--a distributor that drew our attention because, as one industry analyst told me, 'they're visionaries who understand the future.' Merging the future with the past and present seemed like a perfect fit to us, and we intend to demonstrate it with our weekly program."
"Talk of Fame Sports Network" will air nationwide the week of the Pro Football Hall of Fame Game, August 1, 2014. The original program will air Fridays, with listener calls and fan participation. Skyview, serving as the producer and distributor, will provide re-feeds Friday through Sunday. The show can also be heard on the TuneIn Radio streaming app or at talkoffamenetwork.com.
Clark Judge has been following the NFL for more than 30 years. He started in Baltimore, where he covered Lefty Driesell's University of Maryland basketball team before moving on to the Colts. He was the first reporter to reach Frank Kush after the John Elway trade, asking the then-head coach if he wanted to know what he gained in exchange for the No. 1 draft choice. Kush declined, saying he'd read about it in the newspaper. And so he did. When the Colts moved to Indianapolis, so did Clark--getting what he considers the better deal when he relocated to San Diego. He stayed on the West Coast for 16 years, following the Chargers and, later, the San Francisco 49ers, before becoming an NFL columnist for Foxsports.com and CBSSports.com. He is a frequent TV and radio guest and the one guy to somehow, some way, edge the world's foremost draft authority, Rick Gosselin, and win a 2007 national mock-draft contest, proof that sometimes it's better to be lucky than good.
Judge has covered a variety of sports, including Major League Baseball, the NHL, NBA, NCAA basketball, lacrosse and soccer and once was asked to report on a surfing contest--in San Diego, not Indianapolis. He is a member of the Pro Football Hall of Fame board of selectors, an award-winning writer, an addicted runner and a long-suffering, but passionate, Montreal Canadiens fan. Clark and his family live in New York City.
Ron Borges has covered the NFL for 40 years beginning with a nine-year tour of duty with the Oakland Raiders from 1974-1982. After a year covering the Baltimore Orioles he began what is now a 31-year stretch covering the New England Patriots for first the Boston Globe and now as lead sports columnist at the Boston Herald. He also served five years as the Globe's NFL columnist. He has covered 38 of the last 40 Super Bowls, five World Series, four Summer Olympic Games, the Stanley Cup playoffs, NBA playoffs, 22 major golf tournaments including seven Masters Tournaments and over 300 world championship boxing matches around the world.
Borges has been a member of the Pro Football Hall of Fame voting committee for 13 years and is also a voting member of the Senior selection committee. He also votes on the International Boxing Hall of Fame selections.
He is a winner of the Nat Fleischer Award for Excellence in Boxing Journalism from the Boxing Writers Association of America and has won more writing awards and more first prize selections in the annual BWAA writing contest than any journalist in the country. He has been named Massachusetts Sportswriter of the Year four times by the National Sportscasters and Sportswriters Association and has won over 60 writing awards from Associated Press Sports Editors, the Pro Football Writers Association, the Boxing Writers Association of America and the Golf Writers Association of America. His work has been included in Best American Sports Stories 10 times.
Borges has worked as an analyst and commentator on nearly 100 international boxing telecasts and has served as a regular contributor to HBO Sports, writes regularly for RING Magazine and Boxing Monthly, is the lead sports columnist at the Boston Herald and in addition to his weekly boxing radio show on Yahoo!Sports Radio, Mouthpiece Boxing which is the No. 2 most downloaded show on the Yahoo network, he also makes a daily appearances on Yahoo!Sports Radio's 10-noon show and regularly appears on Comcast Sports-New England's nightly and weekend sports magazine show. His work has also appeared in Rolling Stone, Men's Journal and other national publications.
His only truly significant accomplishment however has been raising his two children, Laura and Jack.
Rick Gosselin has covered the NFL for the last 41 years with stints on the Detroit Lions, New York Giants, Kansas City Chiefs and Dallas Cowboys. He also spent 20 years at the Dallas Morning News as an NFL columnist before his promotion to general sports columnist in 2011. A graduate of Michigan State University, Gosselin won the inaugural Bill Reed Award as the top student sports writer in the Big Ten in 1971. He also was named the Missouri Sportswriter of the Year in 1980 by the National Association of Sportscasters and Sportswriters and was elected to the writers' wing of the Pro Football Hall of Fame in 2004 when he won the Dick McCann Award for "long and distinguished reporting on professional football."
Gosselin votes on both the major league baseball and pro football Halls of Fame and also serves on the national advisory board for the John Wooden Award. In addition to covering 31 Super Bowls, Gosselin has covered five World Series, four Final Fours, two summer and one winter Olympics plus the Stanley Cup playoffs, NBA playoffs and a World Cup.
Gosselin is a Detroit native and a graduate of St. Ambrose High School, where he was an all-city hockey player. He wrote his first book in 2009 about his high school and its prep football dynasty in Detroit during the 1950s and 1960s titled, "Goodfellows: The Champions of St. Ambrose." His writings have also appeared in Playboy and the Sporting News.
About Three, Two, One LLC
Three, Two, One LLC, founded by three longtime sports journalists, analysts and Pro Football Hall of Fame committee members, seeks sports industry experts with fresh points of view to create fun, educated sports content. Its first program offering, Talk of Fame Sports Network, is hosted by its founders Clark Judge, Ron Borges and Rick Gosselin. The show provides listeners a football talk format with a Hall of Fame thread running through the lively debate, esteemed guest interviews and stories from 100+ combined years' experience covering the National Football League. Ultimately, Talk of Fame Sports Network gives outsiders a peek into a mysterious, secretive and often misunderstood process so that they can better judge future Hall of Famers for themselves. Find out more at talkoffamenetwork.com.
About Skyview Networks
Skyview Networks currently provides the broadcast services for over 60 professional and over 60 collegiate sports organizations and produces and delivers Arizona News Radio and California Headline News. Founded in 1995, Skyview is based in Scottsdale, Arizona and focuses on providing broadcast network solutions to professional and collegiate sports and syndicated radio. Skyview's services include satellite distribution, full network automation, affiliate relations, inventory management systems and advertising solutions for radio, television, print, signage and web. For more information, visit skyviewnetworks.com.