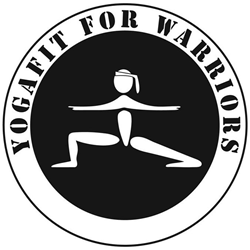 Los Angeles, California (PRWEB) July 09, 2014
YogaFit® Training Systems Worldwide is proud to bring its "Yogafit for Warriors" two-day training workshop to Ft. Hood Army Post in Killeen, Texas from September 20th to 21st. The goal of the complimentary workshop is to help heal military personnel suffering from Post-Traumatic Stress Disorder (PTSD) in the wake of the 2009 and 2014 Ft. Hood shootings. Lt. Col. Shaye Molendyke, a YogaFit® trainer who pioneered the Warriors program, will personally lead the workshop.
The workshop will also be open to local yoga teachers as well as mental health experts, social workers and other members of the community who are in the best possible position to help those affected by the shootings. Everyone at YogaFit® is excited to bring the healing power of yoga to a community in recovery.
YogaFit for Warriors helps calm troubling emotions, thought patterns, chronic tension, and ease suffering from the result of emotional or physical trauma, like PTSD. The program employs safe, trauma-sensitive yoga to heal a warrior's body, mind and spirit.
When trauma occurs, the body keeps score: the brain rewires itself around the traumatic event and the memories get stored in the tissues throughout the entire body. The regular practice of yoga can help to free up troubling emotions, persevering thought patterns, chronic somatic tension and hyper vigilance. New research is showing how yoga can reduce cortisol levels and calm the fight-or-flight response while also increasing the relaxation response.
By using transformational language, slower movements and focused breathing exercises as well as meditation imagery techniques addressing PTSD, YogaFit for Warriors eases the mind and body from traumatic brain injury and other common issues that develop in military settings.
The workshop highlights the somatic component of anxiety and depression while teaching breathing and meditation practices to help relax the body and mind. It also explores restorative yoga postures, breathing techniques and other complementary techniques to soothe the fight-or-flight response.
For further information, visit YogaFit.com. Connect with us at Facebook.com/YogaFitTrainingSystemsWorldwide or on Twitter @YogaFitTraining.
ABOUT YOGAFIT® TRAINING SYSTEMS WORLDWIDE
YogaFit® Training Systems Worldwide was established in 1994 and has since trained more than 250,000 yoga and fitness professionals worldwide. The leader in mind body fitness education, YogaFit® is the largest training school for yoga instructors in North America with further expansion ongoing internationally. YogaFit® and the American Council on Exercise (ACE) have been partners since 2003. Founder and President Beth Shaw is internationally recognized as the foremost authority on yoga and fitness and has been profiled in print publications and television programs including the Huffington Post, Wall Street Journal, Oprah's O Magazine, CNN, The New York Times, USA Today, Entrepreneur, SELF and is currently a New Business Group Member of the New York Times. YogaFit® is committed to community service as well as supporting animals and humanitarian causes.
For more information on YogaFit®, please visit http://www.YogaFit.com.