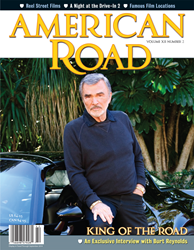 Detroit, Michigan (PRWEB) July 15, 2014
American Road® magazine's Summer 2014 issue—"A Night at the Drive-In 2"—answers readers' requests to compile a second compendium of outdoor cinemas around North America. Back in 2011, American Road® showcased twenty-six drive-ins, meeting their owners and presenting each theatre's story. This time, American Road® highlights thirty-two drive-ins per the first rule of sequels that says bigger is better—as long as you're not Batman.
Actor and director Burt Reynolds became a megastar on the drive-in screen beginning in the early 1970s. In Smokey and the Bandit, The Cannonball Run, and other fuel-injected adventures, he defined the road film for Generation X. Reynolds speaks to his experiences in an exclusive American Road® interview that looks back on the miles he's traveled and explains why he endures as an American icon.
In American Road's first drive-in issue, authors and artists designated "American Road's Top 12 Road Films." As a follow-up, this issue examines a dozen films named for genuine thoroughfares—from Charlie Chaplin's Easy Street to Billy Wilder's Sunset Boulevard and David Lynch's Mulholland Drive. Road departments revisit the filming of Bagdad Cafe on Route 66, The Birds around Bodega Bay, and Zaat—among other walking-catfish-freak-type films—off US 101 at Florida's Marineland. Who knows if the Gill-Man could have carried a Rodgers and Hammerstein musical? He certainly had the lungs for it.
Drive-in movie buffs will undoubtedly ask, "Is American Road® planning a drive-in sequel to this sequel?" According to Executive Editor Thomas Repp, "Plans are already in place to present a 'Dawn of the Drive-In' issue, and maybe even a 'Day of the Drive-In' special." In the meantime, sit back, relax, and enjoy the show!
About American Road®
American Road® is an award-winning periodical published quarterly by Mock Turtle Press, distributed internationally by Disticor, and now available at newsstands and fine bookstores. American Road® also offers a digital edition and an iTunes app for the iPad.
Americanroadmagazine.com provides the visitor with tools to discover that hidden landmark and make new memories on the road less traveled. Readers will find sponsored downloadable trip itineraries that make travel planning a breeze, as well as the American Road® Forums—the ultimate road trip community.
To preview the current issue, visit: http://americanroadmagazine.com/previewmag.html.