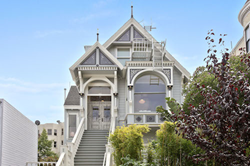 When is a good time to buy? Actually, right now, for sure.
San Francisco, California (PRWEB) July 10, 2014
San Francisco real estate, while expensive and often competitive to break into, is an excellent long-term investment. Over the past year, the San Francisco housing market has been noted for dramatically rising prices, competitive bidding and all-cash purchases, which in turn has caused average buyers to feel "priced out" of the San Francisco housing market.
Ruth Krishnan, a motivated real estate agent with an impressive sales record, has noticed a recent change in the San Francisco housing market. "When is a good time to buy? Actually, right now, for sure is," says Krishnan. "Starting with the beginning of May, I started to feel a bit of softness in the market."
Krishnan explains further, saying, "There are occasional littles waves in the market and it doesn't mean that a well-marketed, well-priced listing won't do extremely well, but it does mean that a listing that is not prepared properly or priced even a tad high might sit or be subject to an aggressive agent like me finding a deal for my buyers."
"In the past few years," says Krishnan, "buyers have been contending with multiple bid situations and the reality that they have to pay $15,000 or $20,000 more than their competitors to get into contract and avoid multiple counter offers." According to Krishnan, other ways to get into contract include staying in close contact with listing agent throughout the negotiation process, removing contingencies, putting down a higher down payment, and working with reputable loan officers.
"Researching the seller and writing letters that you think might appeal to their life is another way to close a deal," says Krishnan. "I represented a buyer who was bidding on a place as a single woman and we found out the seller also purchased it as a single woman. My buyer wrote a handwritten letter sharing with the seller all that they had in common. It worked. The seller wanted to sell to a person just like herself and that letter was a big reason why she was able to win the offer. A few years later that same seller hired me to help her find a home."
During this period of softening in the San Francisco housing market, Krishnan has found that diligent buyers can find opportunities to submit the only offer on a home, saving thousands of dollars, but it requires looking at properties at every opportunity. "Most San Francisco agents believe that if something doesn't sell in two weeks at a certain price, the property won't get that price, and after a month they ask sellers to lower prices. If a home hasn't sold in two weeks, it's a good time to consider putting in an offer, but to take advantage of this window, you need to have seen the property. I help my buyers by sifting through the MLS and looking for anything that's been on the market more than a few weeks and then writing up offers under asking price. I just closed one last week for 50K under asking. I don't think I've done that for a few years."
What about sellers? "Should sellers worry? No," says Krishnan. "There is still very limited inventory and heavy buyer demand. Although San Francisco buyers have become trained to think that they're going to have to pay sometimes $200 to $300,000 over the listing price, if the price is set at the higher end of what it could sell for, this may scare buyers away."
How can buyers take advantage of current opportunities in the San Francisco housing market? "Buyers," says Krishnan, "put your agents to work and have them find you something that you can get a deal on because deals are out there for the first time in a very long time. And remember: successful sales ultimately come from two motivated parties — the real estate agent and the buyer. In order to take advantage of these deals you need to be doing your part and be out there looking at open houses every week so that you can learn the market and also have seen the inventory so that when an opportunity comes up, you are ready."
For more information about how to take advantage of the current dip in the San Francisco housing market got http://www.ruthkrishnan.com.
About Ruth Krishnan: Ruth Krishnan is one of the San Francisco housing market's top real estate agents. With a background in design and business, Ruth Krishnan brings an artistic eye and strong negotiation and business skills to the arena of real estate sales. Representing both buyers and sellers, and with a expert knowledge and comfort with San Francisco's unique real estate market, Ruth Krishnan has a long history of satisfied clients and successful transactions. To learn more about Ruth Krishnan's experience as real estate agent, to get free advice about the San Francisco housing market and San Francisco housing prices, or to request an interview contact her at info(at)ruthkrishnan(dot)com.