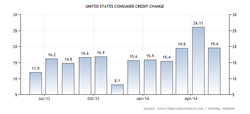 Americans are feeling the effects of strengthening employment and stock market gains
Chicago, IL (PRWEB) July 09, 2014
Lenders like Peoples Home Equity are happy to see that as individuals are taking on new debt as they stabilize their financial situation. The Federal Reserve proved that Americans are taking on more loans to buy new homes, cars, or pay off school tuition and this is a sign of a growing consumer confidence. This financial confidence is a result of higher employment rates and stock market gains.
As shown on TradingEconomics.com April's consumer confidence number increased to $26.1 billion, which was an increase from $19.5 billion compared in March. Even though May's report fell back down to $19.6 billion, figure was still the second highest for the past year. Economists are very happy to find that April has actually shown the best improvement since December 2010 and that in this time consumers are feeling like they have the ability to take on more debt.
In April, the number of revolving debt was $8.85 billion and in May it rose for another $1.79 billion while non-revolving credit increased up to $17.8billion in May. Ward`s Automotive Group showed in biggest improvement in car sales since July 2006. They gained 16.7 million in May and 16.9 million in June. Also the school tuitions loans went up to $4.8 billion in April and the housing market is attracting housing changes and more purchases of home furniture. Furniture stores gained 6.5 percent more than this time last year and electronics stores gained 1.3 percent more.
Americans are feeling the effects of strengthening employment and stock market gains. This type of environment is making it possible for consumers to take more loans and spend more. The future remains bright and as the financial situation for most Americans improves.
If readers are looking to take on a home loan contact a Peoples Home Equity loan officer today at: 262-563-4026